Licensing Scheme for Repairs and Maintenance
26th November 1943
Page 19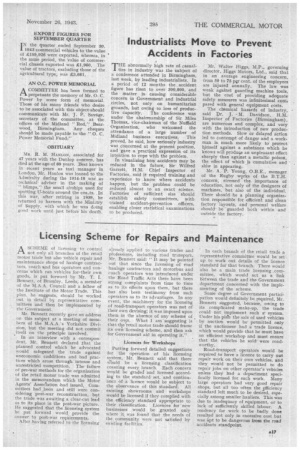 Page 19, 26th November 1943 —
Licensing Scheme for Repairs and Maintenance
Close
ASCHEME of licensing to control not only all branches of the retail motor trade hut also vehicle repair and maintenance shops of haulage contractors, coach and bus operators and concerns which run vehicles for-their own goods, is put forward by Mr. T. I. Bennett, of Bramley, Leeds, a member of the M.A.A. Council and a fellow of the Institute of the Motor Trade. This plan, he suggests, should be worked out in detail by representative committees and then be implemented by
• the Government,
Mr. Bennett recently gave an address on this subject at a meeting of members of the IVLA.A.'s Yorkshire Division, but the meeting did not commit itself on the principle involved.
In an interview with a correspondent, Mr. Bennett declared that the planned control which he advocated would safeguard the trade against uneconomic codditions and bad practices which arose through-intense and unrestricted competition. The failure of pre-war methods for the organization of the retail motor trade was admitted in the memorandum which the Motor Agents' Association had issued. Committees had been and still were considering post-war reconstruction, but the trade was awaiting a clear-cut lead as to its place in the post-war picture. He suggested that the licensing system he put forward would provide the answer to post-war requirements,
After having referred to the licensing
already applied to various trades and professions, including road transport, Mr. Bennett said: " It may be pointed out that since the licensing of road haulage contractors and motorbus and coach operators was introduced under the Road Traffic Acts there have been strong complaints from time to time as to its effects upon them, but there has also been testimony from such operators as to its advantages. In any event, the machinery for the licensing of road-transport operators was not of their own devising; it was imposed upon them in the absence of any scheme of their on. What I am suggesting is that the retail motor trade should frame its own licensing scheme, and then ask for Government aid in operating it."
Licences for Workshops Putting forward detailed suggestions for the operation of his licensing system, Mr., Bennett said that there
ould be a licensing classification covering every branch. Each concern wonld be graded and licensed according to the, standardset, 'and continuance of a licence would be subject to the observance of this standard. All existing showrooms and workshops would be licensed if they complied with the efficiency standard appropriate to their classification. Licences for • new businesses would be "granted only where it was found that the needs of the community were not satisfied by existing facilities. In each branch of the retail trade a representative committee would be set up to work out details of the licence standard for that branch. There would also be a main trade licensing ,committee, which would act as a link between the trade and the Government department concerned with the implementing of the scheme.
Some degree of Government participation would definitely be required, Mr. Bennett suggested, because, miring to its complicated make-up, the trade could not implement such a' system. Under his plall the sale of used vehicles by auction would be permitted only if the auctioneer had a trade licence, which would provide that he must have an efficient workshop and must ensure that the vehicles he sold' were roadworthy.
Road-transport operators would be required to have a licence to carry out repair work on their own vehicles, and they would not he permitted to do repair jobs on other operator's vehicles unless they had a department specifically licensed for such work. Many large operators had very good repair shops, but all too often the 2fficiency standard left much to be desired, especially among smaller hauliers. This was due to inadequacy of equipment, or to lack of sufficiently skilled labour. A tendency for work to be badly done resulted not only in excessive cost but was apt to be dangerous from the road accidents standpoint.