News of the Week Statement of Policy by H.M.F.
26th November 1943
Page 18
Page 19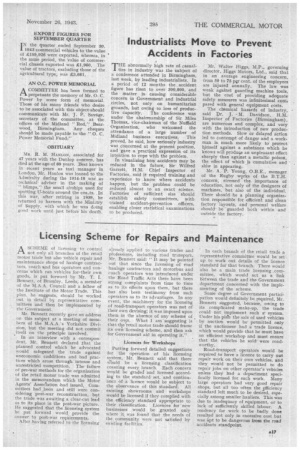 Page 20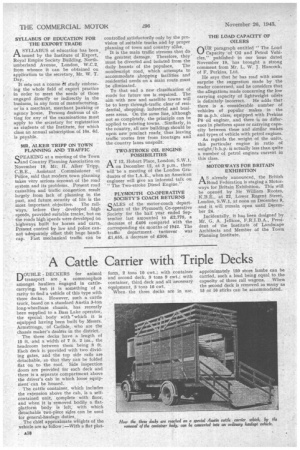 Page 18, 26th November 1943 —
News of the Week Statement of Policy by H.M.F.
Close
THauliers' Mutual Federation has issued a statement of policy. The points are as follow : —To defend the independent haulier against anyone who would hamper his livelihood and free= dom of enterprise. To demonstrate to the Government, chambers of commerce, and the public that goods road haulage is not properly susceptible to rigid control. That the tendency towards a Transport Board should be resisted. To oppose any new forms of compulsion as regards associations or rates schedules. • To insist that, any representative of the haulage industry required to serve on any public body should be appointed by. the democratic vote of the hauliers; he should serve for a specified period and be subject to re-election or replacement. To oppose any system of appointment by Minis ters. To countenance and, as convenient, co-operate with satisfactory
clearing houses as being business enterprises bringing valuable aid and specialized knowledge to many hatiliers. To uphold the good name of the industry by encouraging fair conditions of employment and reward. To press for a revision of the repressive system of taxation, regulation and licensing. To work for the free association of all hauliers and for the adoption of _rates based on -co-operation and the general good will of all—traders and hauliers.
In addition, it is emphasized that there is no intention that the groups of which the Federation is constituted should in any way act in a trading capacity or become trading organizations.
The H.M.F. seeks to ensure that goods road transport gives the best possible service to the Nation—a proved, practical and efficient service with a decently paid staff, yet without debiting industry with undue costs.
"LET THE OPERATOR ADVISE THE MAKER" AT a meeting of the Vebicle Supply and Maintenance Committee of the S.J.C., held on November 16, and cornprising Messrs. J, F. E. Pye (chairman), J. B. Osier, G. T. M. Fairtlough, H. Claque, J. Hutchinson, H. Clark and F. P. Arnold, Mr, Arnold made a suggestion that machinery should be instituted to' determine the requirements of goods operators in respect of vehicle design, for the purpose of putting these views forward to the makers: he referred to similar arrangements made by the Public Transport Association. After somn discussion, it was agreed that it was desirable that some such machinery should be instituted and be dealt with through the present
Committee. • This is obviously one of the results of the conference of operators held by this journal on March 31 (at which Mr. F. P. Arnold. of Thomas Tilling, Ltd., was present) and of the numerous comments made on this matter in " The Commercial Motor " over a period of several months.
TYRE CONCESSION FOR TOWED WATER CART,
TRAILERS and water carts will, in
future be allowed to be towed by mechanically, propelled vehicles for the purpose of snpplying . water to steam rollers 'engaged on road construction and maintenance, although such carts and trailers be not equipped with pneumatic or other classes of tyre made of soft or elastic material. This comes under the Motor Vehicles (Construction and Use) (Amendment) (No. 5) Provisional Regulations, 1943, dated November 17.
This means that such vehicles may be shod with even iron or steel tyres.
• CALL FOR WITHDRAWAL OF HAULAGE SCHEME
WHEN it met ,recently in Leicester, the East Midland Area Joint Consultative Committee of Trade Unions and Employers' Associations resolved 'to call for the withdrawal of the Government Haulage Scheme for long-distance traffic. It, was emphasized that the scheme made provision for the laying up of vehicles, whereas present circumstances had created a demand for extra machines. It was. further said that one effect of the scheme had been to waste resources of man-power and vehicles, which had caused greater congestion than would otherwise have been the case if the scheme had not been put into operation.
EXECUTIVE OFFICER FOR NORTH-WESTERN ASSOCIATIONS
APPLIAPPLICATIONS for a chief executive CATIONS to serve' jointly the NoahWestern Area Traders and Passenger Associations are being invited in a small advertisement in this issue. The post is in connection with the Road Transport Organization Joint Conference, and we understand that a good salary 'will be paid to a person possessing the necessary qualifications, including tact and a good personality.
EXPORT FIGURES FOR SEPTEMBER QUARTER
I N the quarter ended September 30, 1943 commercial vehicles to the value of £159,926 were exported, whereas, in the same period, the value of commercial chassis exported was £1,960, The value of tractors, excluding those of the agricultural type, was 23,681.
AN O.C. POWER MEMORIAL
A COMMITTEE has been formed to 1--1. perpetuate the memory of Mr. 0. C, Power by some form of memorial. Those of his many friends who desire to he associated with this objectIshould communicate with Mr. J. P. Savage, secretary of the committee, at the offices of the Midland "Red," Bearwood, Birmingham. Any cheques should be made payable to the "0. C. Power Memorial Fund."
OBITUARY •
M. R. M. HANLON, associated for 47 years with the Dunlop concern, has died at the age of 69 years. Best known in • recent years as taxi manager in London, Mr. Hanlon was loaned to the Admiralty during the 1914-18 war as technicaladviser in the making of " blimps," the small airships used for spotting U-boats around the coa.,,ts. .In this war, after retiring in 1939, he returned to harness with the Mini:try of Supply, with which he was doing good work until just before his death.
SYLLABUS OF EDUCATION FOR THE EXPORT TRADE
ASYLLABUS of education has been issued by the Institute of Export, Royal Empire Society Building, Northumberland Avenue, London, W.C.2, from whence it can be obtained on application to the secretary, Mr. W. T. Day.
It sets out a course et study embracing the whole field of export practice in order to meet the needs of those engaged directly or indirectly in the business, in any form of manufacturing, or in a merchant, merchant banking or agency house. Persons desirous of sitting for any of the examinations must apply to the secretary for registration as students of the Institute, for which class an annual subscription of 10s. 6d. is payable.
MR. ALKER TRIPP ON TOWN PLANNING AND TRAFFIC •
SPEAKING at a meeting of the Town and Country Planning Association on November 19, Mr. H. Alker Tripp, C.B.E., Assistant Commissioner of Police, said that modern town planning takes very serious account of the road system and its problems. Present road casualties and traffic congestion result largely from lack of planning in the past, and future security of life is the most important objective. The railways, before they • developed high speeds, provided suitable tracks, but on the roads high speeds were developed on highways built for horses and carts. Present control by law and police cannot adequately offset thdt huge handicap. Fast mechanical traffic can be
controlled satisfactorily only by the provision of suitable tracks and by proper planning of town and country alike.
It is the main traffic streams that do the greatest damage. Therefore, they must be diverted and isolated from the daily haunts of the populace. The nondescript road, which attempts to accommodate shopping is.cilities and residential needs on a main route,must be eliminated.
To that end a new classification of roads for future use is required. The aim with new, and satellite towns will be to keep through-traffic clear of residential, shopping-, industrial and business areas. On the same line, although not so completely, the principle can be applied to existing towns. _Similarly, in the country, all new buildings should be upon new precinct roads, thus leaving traffic routes free from frontages and the country lanes unspoilt.
TWO-STROKE OIL ENGINE ' POSSIBILITIES
AT 12-Hobart Place, London, S.W.1, on December 12, at 3 p.m., there will be a meeting of the London Graduates of the I.A.E., when an American engineer will give an informal talk on " The Two-stroke Diesel Engine."
PLYMOUTH CO-OPERATIVE SOCIETY'S COACH RETURNS ,
SALES of the motor-coach department of the Plymouth Co-operative Society for the half year ended September last amounted to £2,778, a decrease of £406 compared with the corresponding six months of 1942. The traffic department • turnover was £1,655, a decrease of £506.
THE LOAD CAPACITY OF OILERS
Oi.TR paragraph entitled "The Load Capacity of Oil and Petrol Vehicles," publishedin our issue dated November 19, has brought a strong comment from Mr. L. W. J. Hancock. of F. Perkins, Ltd.
He says that he has read with some surprise the suggestion made by the reader concerned, and he considers that the allegations made concerning the low carrying capacity of lightweight oilers
is definitely, incorrect. He adds that there is a considerable number of vehicles of popular makes in the 30 m.p.h. class, equipped with Perkins P6 oil engines, and there is no difference in platform space or carrying capacity between these and similar makes and types of vehicle with petrol engines.
As regards the weight of the units, this particular engine in ratio of weight/ b.h.p.is actually less than quite a number of petrol engines current in this class, MOTORWAYS FOR BRITAIN EXHIBITION
AS already announced, the British Road Federation is staging a Motorways for Britain Exhibition. This will be opened by Sir William Rootes, K.B.E., at 22, Lower Regent Street, London, S.W.1, at noon on December 9, and it will remain open until December 24.
Incidentally, it has been designed by Mr, G. A. Jellicoe, F.R.I.B.A., President of the Institute of Landscape Architects and Member of the Town Planning Institute.
Tags
Organisations
:
Transport Board
,
Vebicle Supply and Maintenance Committee of the S.J.C.
,
Town Planning Institute
,
Hauliers' Mutual Federation
,
British Road Federation
,
East Midland Area Joint Consultative Committee of Trade Unions and Employers
,
Mutual Federation
,
Institute of Landscape Architects and Member
,
Institute of Export
,
C. Power Memorial Fund
,
Town and Country Planning Association
,
Maintenance Committee of the S.J.C.
,
Public Transport Association
,
PLYMOUTH CO-OPERATIVE SOCIETY
People
:
J. Hutchinson
,
F. E. Pye
,
ALKER TRIPP
,
F. P. Arnold
,
H. Clark
,
J. P. Savage
,
H. Claque
,
W. T. Day
,
H. Alker Tripp
,
William Rootes
,
M. HANLON
,
T. M. Fairtlough