AIR TRANSPORT NEWS
26th May 1933
Page 56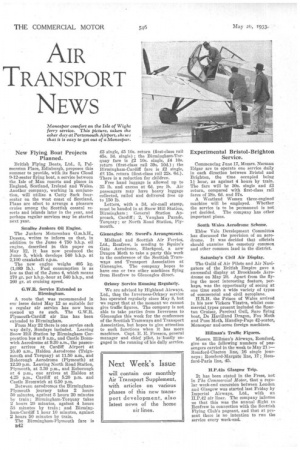 Page 56, 26th May 1933 —
AIR TRANSPORT NEWS
Close
New Flying Boat Projects Planned.
British Flying Boats, Ltd., 3, Palmerston Place, Edinburgh, proposes this summer to provide, with its Sam Cloud 9-12-seater flying boat, a service between the Isle of Man resorts and places in England, Scotland, Ireland and Wales. Another company, working in conjunction, will utilize a Cutty Sark fourseater on the west coast of Scotland. Plans are afoot to arrange a pleasure cruise among the Scottish coastal resorts and islands later in the year, and perhaps regular services may be started next year.
Smaller Junkers Oil Engine.
The Junkers Motorenbau Dessau, writes to inform us that, in addition to the Junto 4 750 b.h.p. oil engine, described in this paper on May 12, it has now produced the Jumo 5, which develops 540 b.h.p. at 2,100 crankshaft r.p.m.
The new engine weighs 495 kg. (1,089 lb.). Fuel consumption is as low as that of the Jumo 4, which means 170 gr. per b.h.p.-hour at 540 b.h.p., and 160 gr. at cruising speed.
G.W.R. Service Extended to Birmingham.
A route that was recommended in our issue dated May 12 as suitable for a regular air service has now been opened up as such. The G.W.R. Plymouth-Cardiff air line has been extended to Birmingham.
From May 22 there is one service each way daily, Sundays included. Leaving Snow Hill Station by Birmingham Corporation bus at 9 a.m., and Castle Bromwich Aerodrome at 9.30 a.m., the passenger arrives at Cardiff Airport at 10.40 a.m.' Haldon Aerodrome (Teignmouth and Torquay) at 11.50 a.m., and Roborough Aerodrome (Plymouth) at 12.20 p.m. Leaving North Road Station, Plymouth, at 3.30 p.m., and Roborough at 4 p.m., one arrives at Heiden at 4.25 p.m., Cardiff at 5.20 p.m. and Castle Bromwich at 6.50 p.m.
Between aerodromes the BirminghamPlymouth journey takes 2 hours 50 minutes, against 5 hours 20 minutes by train ; Birmingham-Torquay takes 2 hours 20 minutes, against 4 hours 58 minutes by train ; and Birmingham-Cardiff 1 hour 10 minutes, against 2 hours 50 minutes by train.
The Birmingham-Plymouth fare is £3 single, £5 10s. return (first-class rail 45s. 3d. single) ; the Birmingham-Torquay fare is £2 10s. single, £4 10s. return (first-class rail 39s. 10d.) ; the Birmingham-Cardiff fare is £2 single, Pi 15s. return (first-class rail 22s. 6d.). There is a reduction for children.
Free hand luggage is allowed up to 35 lb. and excess at 6d. per lb. Air passengers may have heavy luggage collected, railed and delivered free up to 150 lb.
Letters, with a 3d. air-mail stamp, must be handed in at Snow Hill Station, Birmingham ; General Station Approach, Cardiff ; 2, Vaughan Parade, Torquay ; or North Road Station, Plymouth.
Gleneagles: Mr. Sword's Arrangements.
Midland and Scottish Air Ferries, Ltd., Renfrew, is sending to Squire's Gate Aerodrome, Blackpool, a new Dragon Moth to take a party this week to the conference of the Scottish Tramways and Transport Association at Gleneagles. The company hopes to have one or two other machines flying from Renfrew to Gleneagles direct.
Orkney Service Running Regularly.
We are advised by Highland Airways, Ltd., that the Inverness-Orkney service has operated regularly since May 8, but we regret that at the moment we cannot give traffic figures. The company is not able to take parties from Inverness to Gleneagles this week for the conference of the Scottish Tramways and Transport Association, but hopes to give attention to such functions when it has more machines. Capt. E. E. Pressen, general manager and chief pilot, is busily engaged in the running of his daily service.
Experimental Bristol-Brighton Service.
Commencing June 17, Messrs. Norman Edgar are to operate one service daily in each direction between Bristol and Brighton, the time occupied being 11 hour, as against 4 hours by train. The fare will he 30s. single and £3 return, compared with first-class rail fares of 28s. 6d. and 57s.
A Westland Wessex three-engined machine will be employed. Whether the service is to be permanent is not yet decided. The company has other important plans.
South Wales Aerodrome Scheme.
Ebbw Vale Development Committee has discussed the provision of an aerodrome. It was decided that officials should examine the cemetery common and other common land in the district.
Saturday's Civil Air Display.
The Guild (4 Air Pilots and Air Navigators of the British Empire gave a successful display at Brooklands Aerodrome on May 20. Apart from the flying the most interesting feature, perhaps, was the opportunity of seeing at one time such a wide variety of types of commercial and civil aeroplane.
H.R.H. the Prince of Wales arrived in his new Vickers Viastra, whilst commercial...types present included the Spartan Cruiser, Percival Gull, Saro flying boat, De Havilland Dragon, Fox Moth and Puss Moth, Handley-Page 42-seater, Monospar ambsome foreign machines.
Hillman's Traffic Figures.
Messrs. Hillman's Airways, Romford, give us the following numbers of passengers carried in the week to May 21 :— Romford-Clacton line, 16 single journeys; Romford-Margate line, 17; Romford-Paris line, 45.
H.P.42s Glasgow Trip.
It has been stated in the Press, not in The Commercial Motor, that a regular week-end excursion between London and Glasgow was started last Friday by Imperial Airways, Ltd., with an H.P.42 air liner. The company informs us that this was the annual flight to Renfrew in connection with the Scottish Flying Club's pageant, and that at present there is no intention to run the service every week-end.