A New Cylinder-reboring Tool
26th May 1933
Page 55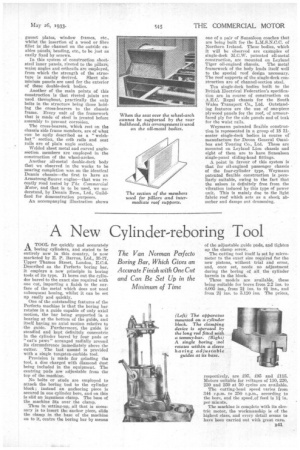 Page 55, 26th May 1933 —
A New Cylinder-reboring Tool
Close
The Van Norman Perfecto Boring Bar, Which Gives an Accurate Finish with One Cut and Can Be Set Up in the Minimum of Time
ATOOL for quickly and accurately boring cylinders, and stated to be entirely new in this country, is now marketed by E. P. Barrus, Ltd., 35-27, Upper Thames Street, London, E.C.4. Described as the Perfecto boring bar, it employs a new principle in boring tools of its type. It bores out the cylinder barrel to the exact size required with one cut, imparting a finish to the surface of the metal which does not need subsequent honing, whilst it can be set up easily and quickly.
One of the outstanding features of the Perfecto machine is that the boring bar rotates in a guide capable of only axial motion, the bar being supported in a bearing at the bottom of the guide, and itself having no axial motion relative to -the guide. Furthermore, the guide is steadied and kept definitely concentric in the cylinder barrel by four pads or "cat's paws" arranged radially around its circumference immediately above the cutter. The last named is provided with a single tungsten-carbide tool.
Provision is made for grinding the tool, a disc charged with diamond dust being included in the equipment. The centring pads are adjustable from the top of the machine.
No bolts or studs are employed to attach the boring tool to the cylinder block; instead an anchoring piece is secured in one cylinder bore, and on this is slid an ingenious clamp. The base of the machine fits over the clamp.
Thus in setting-up, all that is necessary is to insert the anchor piece, slide the clamp in the base of the machine on to it, centre the boring bar by means of the adjustable guide pads, and tighten up the clamp screw.
The cutting tool itself is set by microMeter to the exact size required for the new pistons, without trial and error, and, once set, needs no adjustment during the boring of all the cylinder barrels in the block.
Three models are available, these being suitable for bores from 2.2 ins. to 4.005 ins., from n ins. to 41 ins., and from 2iins. to 5.120 ins. The prices,
respectively, are £05, £95 and £115. Motors suitable for voltages of 110, 220, 230 and 250 at 50 cycles are available.
The cutting-head speed varies from 344 r.p.m. to 250 r.p.m., according to the bore, and the speed.of feed is 1 in. per minute.
The machine is complete with its electric motor, the workmanship is ofthe highest class, and every detail seems to have been carried out with great care.