Sliding Roofs for Refuse Collectors
26th May 1933
Page 44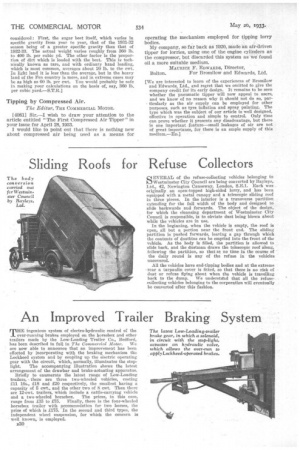 Page 44, 26th May 1933 —
Sliding Roofs for Refuse Collectors
Close
SEVERAL of the refuse-collecting vehicles belonging to Westminster City Council are being converted by Bayleys" Ltd., 42, Newington Causeway, London, S.E.1. Each was oxiginally an open-topped high-sided lorry, and has been equipped with a metal canopy and a telescopic sliding roof in three pieces. In the interior is a transverse partition extending for the full width of the body and designed to slide backwards and forwards. The object of the design, for which the cleansing department of Westminster City Council is responsible, is to obviate dust being blown about while the vehicles are in use.
In the beginning, when the vehicle is empty, the roof is cpen, all but a portion near the front end. The sliding partition is pushed forwards, leaving a gap through which the contents of dustbins can be emptied into the front of the vehicle. As the body is filled, the partition is allowed to slide back, and the dustman draws the telescopic roof along, following the partition, so that at no time in the course of the daily round is any of the refuse in the vehicles uncovered.
All the vehicles have end-tipping bodies and at the extreme rear a tarpaulin cover is fitted, so that there is no risk of dust or refuse flying about when the vehicle is travelling back to the dump. We understand that all the refusecollecting vehicles belonging to the corporation will eventually be converted after this fashion.