WHEELS of INDUSTRY "The wheels of wealth will be slowed
26th May 1933
Page 36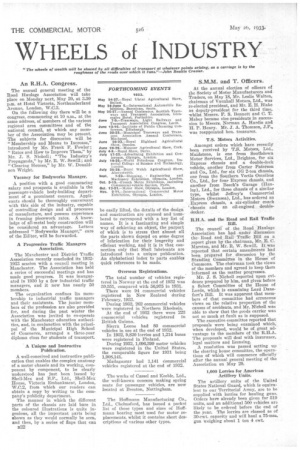 Page 37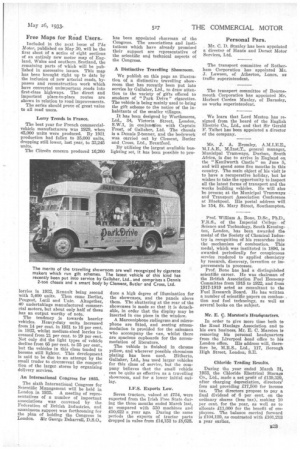 Page 38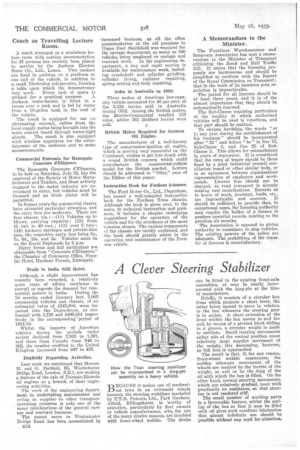 Page 39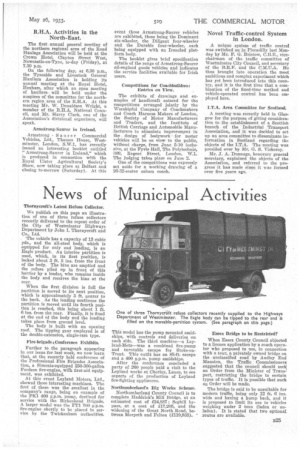 Page 40
Page 36, 26th May 1933 —
WHEELS of INDUSTRY "The wheels of wealth will be slowed
Close
Keywords :
by all difficulties of transport at whatever points arising, as a carriage is by the roughness of the roads over which it runs,"—John Beattie Crozier.
An R.H.A. Congress.
The annual general meeting of the Road Haulage Association will take place on Monday next, May 29, at 3.30 p.m. at Hotel Victoria, Northumberland Avenue. Landon, W.C.2.
On the following day there will be a congress, commenting at 10 a.m., at the same address, of members of the various regional area committees and of the national council, at which any member of the Association may be present. The subjects for discussion will be "Membership and Means to Increase," introduced by Mr. Frank F. Fowler ; "Rates and How to Improve Them," by Mr. J. S. Nicholl; "The Industry's Propaganda," by Mr. R. W. Sewill ; and "Clearing Houses," by Mr. W. Donaldson Wright.
Vacancy for Bodyworks Manager.
A position with a good commencing salary and prospects is available in the passenger-vehicle body-building department of a prominent concern. Applicants should be thoroughly conversant with this side of the industry, capable of controlling design and all processes of manufacture, and possess experience in framing piecework rates. A knowledge of all-metal body construction will be considered an advantage. Letters addressed " Bodyworks Manager," care of the Editor, will be forwarded.
A Progressive Traffic Managers Association.
The Manchester and District Traffic Association recently concluded its 19321.983 session with a council meeting in Manchester. The Association has held a series of successful meetings and has made good progress. It was inaugurated in 1030 by a few industrial traffic managers, and it now has nearly 50 members,
The organization confines its membership to industrial traffic managers and their assistants. The junior members of the profession are also provided for, and during the past winter the Association was invited to co-operate with the Manchester education authorities, and, in conjunction with the principal of the Municipal High School of Commerce, arranged a three-year diploma class for students of transport.
A Unique and Instructive Publication.
A well-conceived and instructive publication that enables the complex anatomy of a motor chassis and its working, component by component, to be clearly understood has just been issued by Shell-Mex and B.P., Ltd., Shell-Mex House, Victoria Embankment, London, W.C.2, from which our readers can obtain a copy by writing to the company's publicity department.
The manner in which the different parts of the chassis are laid bare in the coloured illustrations is quite ingenious, all the important parts being shown as they would normally be seen, and then, by a series of flaps that can
B22 be easily lifted, the details of the design and construction are exposed and nunibered to correspond with a key list of names. It is a fascinating and simple way of achieving an object, the purport of which is to stress that almost all the parts shown depend on some degree of lubrication for their longevity and efficient working, and it is in that connection only that Shell Inbricants are introduced into a unique publication. An alphabetical index to parts enables quick references to be made.
Overseas Registrations.
The total number of vehicles registered in Norway at the end of 1932 was 59,551, compared with 56,975 in 1931.
There were 94 commercial vehicles registered in New Zealand during February, 1933.
During 1932, 262 commercial vehicles were registered in Northern Rhodesia.
At the end of 1932 there were 223 commercial vehicles registered in British Guiana.
Sierra Leone had 80 commercial vehicles in use at the end of 1032.
In 1932, 9,820 lorries and 1,214 buses were registered in Finland.
During 1932, 1,096,399 motor vehicles were registered in the United States, the comparable Sg-ure for 1931 being 1,908,141.
Madagascar had 1,141 Commercial vehicles registered at the end of 1932.
The works of Cassel and Keeble, Ltd., the well-known concern making spring seats for passenger vehicles, are now located at Beeston, Nottingham.
The Hoffmann Manufacturing Co., Ltd.. Chelmsford, has issued a pocket list of those types and sizes of Hoffmann bearing most used for motor replacements, whilst it contains short descriptions of various other types.
S.M.M. and T. Officers.
At the annual election of officers of the Society of Motor Manufacturers and Traders, on May 18, Mr. Leslie Walton, chairman of Vauxhall Motors, Ltd., was re-elected president, and Mr. E. H. Blake as deputy-president for the third time, whilst Messrs. F. S. Bennett and C. T. Mabey became vice-presidents in succession to Messrs. Norman A. Hardie and H. P. Henry. Mr. T. A. Thomson, J.P., was reappointed hon. treasurer.
T.S. Motors Activities.
Amongst orders which have recently been received by T.S. Motors, Ltd., Maidstone, is one from Southdown Motor Services, Ltd., Brighton, for six Express chassis and a double-deck vehicle, another from Carter Paterson and Co., Ltd., for six GO 2-ton chassis, one from the Southern Vectis Omnibus Co., Ltd., for four Express chassis, and another from Beech's Garage (Hanley), Ltd., for three chassis of a similar type, whilst Jeffrey's Commercial Motors (Swansea), Ltd., has ordered an • Express chassis, a six-cylinder coach chassis and an oil-engined doubledecker.
R.H.A. and the Road and Rail Traffic Bill.
The council of the Road Haulage Association has had under discussion the Road and Rail Traffic Bill on a report given by the chairman, Mr. E. C. Marston, and Mr. R. W. Sewill. It was reported that certain amendments had been prepared for discussion by the Standing Committee in the House of Commons. The chairman took the views of the members and agreed to keep them informed as the matter progresses.
Mr. J. S. Nicholl reported upon evidence prepared by him, and given before a Select Committee of the House of Lords, which is examining Lord Danefort's Bill. It was apparent that members of that committee had erroneous views on the relative proportion of the causes of accidents, and Mr. Nicholl was able to show that the goods carrier was not so much at fault as is supposed.
The executive committee reported that proposals were being examined which, when developed, would be of great advantage to the members of the R.H.A. The proposals will deal with insurance, legal matters and licensing. A resolution was passed setting up the clearing house committee, the operations of which will commence officially after the annual general meeting of the Association on May 29.
1,000 Lorries for American Artillery Units.
The artillery units of the United States National Guard, which is equivalent to our Territorial Army, are to be supplied with lorries for hauling gulls. Orders have already been given for 519 units, and an additional 500 vehicles arz likely to be ordered before the end of the year. The lorries are classed as of 30-cwt. capacity and will haul a 75-mm. gun weighing about 1 ton 4 cwt.
Free Maps for Road Tigers,
Included in the next issue of T ke Motor, published on May 30, will be the first sheet of a series of eight sections of an entirely new motor map of England, Wales and southern Scotland, the remaining parts of which will be published in successive issues. This map has been brought right up to date by the inclusion of new arterial roads, bypasses and reconstruction work which have converted unimportant roads into first-class highways. The direct and important place-to-place routes are shown in relation to road improvements.
The series should prove of great value to all road users.
Lorry Trends in France.
The best year for French commercialvehicle manufacturers was 1929, when 45,000 units were produced. By 1931 production had fallen to 35,000 units, dropping still lower, last year, to 33,245 units.
The Citroen concern produced 16,200 lorries in 1932, Renault being second with 5,400 units. Then came Berliet, Peugeot, Latil and ride. Altogether, 40 undertakings manufactured commercial motors, but about only half of these has an output worthy of note.
The tendency is towards heavier vehicles. Heavy-duty units increased from 14 per cent. in 1931 to 16 per cent. in 1932, whilst medium-sized lorries increased from 21 per cent. to 29 per cent. Not only did the light types of vehicle decline from 65 per cent. to 55 per cent., but the vehicles in this class tended to become still lighter. This development is said to be due to an attempt by the small trader to circumvent the competition of the larger. stores by organizing delivery services.
An International Congress for 1935.
The sixth International Congress for Scientific Management will be held in London in 1935. A meeting of representatives of a number of important associations was convened by the Federation of British Industries, and unanimous support was forthcoming for the plan of holding the Congress in London. Sir George Beharrell, D.S.O., has been appointed chairman of the Congress. The associations and institutions which have already promised their support are representative of the scientific and technical aspects of the Congress.
A Distinctive Travelling Showroom.
We publish on this page an illustration of a distinctive travelling showroom that has recently been put into service by Gallaher, Ltd" to draw attention to the variety of gifts offered to smokers of "Park Drive" cigarettes. The vehicle is being mainly used to bring the gift scheme to the notice of the inhabitants of the smaller It has been designed by Worthmores, Ltd., 34, Victoria Street, London, S.W.1, in conjunskion with Captain Frost, of Gallaher, Ltd. The chassis is a Dennis 2-tonner, and the bodywork was carried out by Clement, Butler and Cross, Ltd., Brentford.
)3y utilizing the largest available buslighting set, it has been possible to pro duce a high degree of illumination for the showcases, and the panels above them. The shuttering at the rear of the showcases is made so that it is detachable, in order that the display may be inserted in one piece in the window.
A Marconiphone radiogram and microphone are fitted, and seating accommodation is provided for the salesmen who accompany the van, whilst there are spacious cupboards for the accommodation of literature.
The vehicle is finished in chrome yellow, and wherever possible chromium plating has been used. Hitherto, Gallaher, Ltd., has used larger vehicles for this class of service, but the company believes that the small vehicle can be quite as effective as a travelling showroom, and for a lower initial outlay.
I.F.S. Exports Low.
Seven tractors, valued at £754, were exported from the Irish Free State during the three months ended March last, as compared with 530 machines and £50,622 a year ago. During the same periods the exports of tractor parts dropped in value from £14,153 to £8,628.
Personal Pars.
Mr. C. D. Stanley has been appointed a director of Hants and Dorset Motor Services, Ltd.
The transport committee of Rotherham Corporation has appointed Mr. J. Lawson, of Atherton, Lanes, as traffic superintendent.
The transport committee of Bournemouth Corporation has appointed Mr. Herbert Corden Manley, of Barnsley, as wqrks superintendent.
We learn that Lord Meston has resigned from the board of the English Electric Co., Ltd., and that Sir Gerald F. Talbot has been appointed a director of the company.
Mr. J. A. Bromley, A.M.I.E.E., M.I.A.E., Minst.T., general manager, Municipal Tramways, Durban, South Africa, is due to arrive in England on the "Kenilworth Castle" on June 5, and will spend some five months in this country. The main object of his visit is to have a recuperative holiday, but hd wishes to take the opportunity to inspect all the latest forms of transport and the works building vehicles. He will also be present at the Municipal Tramways and Transport Association Conference at Blackpool. His postal address will be 154, St. Mary Street, Southampton.
Prof. William A. Bone, D.Sc.,
F.R.S., of the Imperial College of Science and Technology, South Kensington, London, has been awarded the medal of the Society of Chemical Industry in recognition of his researches into the mechanism of combustion. This medal, which was instituted in 1896, is awarded periodically for conspicuous service rendered to applied chemistry by research, discovery, invention or improvements in processes.
Prof. Bone has had a distinguished scientific career. He was chairman of the British Association Fuel Economy Committee from 1915 to 1922, and from 1917-1919 acted as consultant to the Fuel Research Board. He has written a number of scientific papers on combos, tion and fuel technology, as well as several books on the subject.
Mr. E. C. Marston's Headquarters.
In order to give more time both to the Road Haulage Association and to his own business, Mr. E. C. Marston is removing his personal headquarters from the Liverpool head office to his London office. His address will, therefore be, ma.s., Ltd., 117, Borough High Street, London, S.D.
Chloride Trading Results.
During the year ended March 31, 1933, the Chloride Electrical Storage Co., Ltd., made a net profit of £139,329, after charging depreciation, directors' fees and providing 117,500 for income tax. The directors propose to pay a final dividend of 6 per cent. on the ordinary shares (less tax), making 10 per cent, for the year, as well as to allocate 111,000 for the benefit of employees. The balance carried forward is £104,129, as contrasted with £101,213 a year earlier,
Coach as Travelling Lecture Room.
A coach arranged as a miniature lecture room with seating accommodation for 27 persons has recently been placed in service by the Jackson Electric Stove Co., Ltd., Luton. Two cookers are fixed in position on a platform at one end of the vehicle, in addition to a small Electrolux refrigerator, forming a table upon which the demonstrator may work. Every inch of space is utilized for a practical purpose. A Jackson water-heater is fitted in a recess over a sink and is fed by water from a 10-gallon tank in the roof of the vehicle.
The coach is equipped for use on alternating current, cables from the local supply mains being brought into the main control board through water-tight
glands. The coachis also equipped with wireless apparatus for the entertainment of the audience and to make announcements.
Commercial Entrants for Ramsgate Concours d'Elegance.
The Ramsgate Concours &Elegance, to be held on Saturday, July 22, has the approval of the Society of Motor Manufacturers and Traders, and those actively engaged in the motor industry are encouraged to enter, but vehicles must be licensed and no trade plates will be permitted.
In former years the commercial classes have attracted particular attention, and the entry fees are moderate. There are font. classes, viz. :—(11) Vehicles up to 10-cwt. carrying capacity ; (12) from 11 cwt to 40 cwt.; (13) over 2 tons ; (14) hackney carriages and private-hire cars, the respective entry fees being 5s., 7s. 6d., 10s. and 5s. Vehicles must be on the Royal Esplanade by 2 p.m.
Entry forms and full particulars are obtainable from "Concours d'Elegance," the Chamber of Commerce Office, Popular Hotel, Harbour Parade, Ramsgate.
Trade in India Still Quiet.
Although a slight improvement has recently been recorded, a relatively quiet state of affairs continues to prevail as regards the demand for commercial motors in India. During the 10 months ended January last, 2,066 commercial vehicles and chassis, of au estimated value of £245,804, were imported into the Dependency, as contrasted with 3,729 and £406,084 respectively in the corresponding period of 1931-32.
Whilstthe imports of American vehicles during the periods under review declined from 2,903 to 1,301, and those from Canada from 546 to 302, the number credited to the United Kingdom increased from 247 to 437.
Duttields' Expanding Activities.
Last week we mentioned that Messrs. H. and G. Dutfield, 95, Westminster Bridge Road, London, S.E.1, are making a feature of the sale of Dorman-Ricardo oil engines as a branch of their engineering activities.
The work of the engineering department in undertaldng maintenance and eetiug as supplier to other transport. operating concerns is only one of the many ramifications of the general cartage and contract business.
The recent move to Westminster Bridge Road has been necessitated by B24 increased business, as all the office accommodation at the old premises in Upper East Smithfield was required for the cartage department, as many as 300 vehicles being employed on cartage and contract work. In the engineering department, a day and night service is available for maintenance work, includlug crankshaft and cylinder grinding, cylinder lining, radiator repairing, spring setting and body repairing.
Sales in Australia na 1932.
Three makee of American low-capacity vehicle accounted for 46 per cent. of the 3,323 lorries sold in Australia during 1932. Among the British makes, the Morris-Commercial totalled 229 sales, whilst 303 Bedford lorries were sold. a British Maker Required for German Oil Engine.
The manufacturer of a well-known type of compression-ignition oil engine, which is proving very successful on the Continent, wishes to get into touch with a sound British concern which could manufacture the commercial-vehicle model for the British market Letters should be addressed to "Oiler," care of the Editor of this paper.
Instruction Book for Fordson 2-tonner.
The Ford Motor Co., Ltd., Dagenham, has issued a well-compiled instructiou book for the Fordson 2-ton chassis. Although the book is given over, in the main, to technical instruction and guidance, it includes a chapter embodying suggestions for the operation of the vehicle and for the avoidance of the more common abuses. The various components of the chassis are lucidly explained, and the book should greatly assist in the operation and maintenance of the Fordson vehicle.
A Memorandum to the Minister.
The Furniture Warehousemen and Removers Association has sent a memorandum to the Minister of Transport criticizing the Road and Rail Traffic Bill. It states that the licensing proposals are burdensome and should be simplified to conform with the Report of the Royal Commission on Transport ; that in the work of its members area restriction is impracticable.
The period for all licences should be at least three years, and it is of the utmost importance that they should be automatically renewed.
The Sub-Clause requiring particulars of the locality in which authorized vehicles will be used is vexatious, and that part should be omitted.
To obviate hardship, the words "or in any year during the establishment of his business" should be incorporated after "32 " and before " he" in line 13, Sub-Clause 2, and line 25 of SubClause 3. This allows for retrenchment in years of depression. It is considered that the rates of wages should be those fixed by a joint industrial council con= ciliation board or other similar body, or in an agreement between organizations representative of employers and workPeople. Licence fees should not be charged, as road transport is already making vast contributions. Records as to hours of work, journeys, loads, etc., are impracticable and onerous. It should be sufficient to provide that, in exceptional cases, the licensing authority may require the holder of a licence to produce essential records relating to the previous six months.
The Association is opposed to giving authority to examiners to stop vehicles. The existing powers of the police are adequate. The prohibition of the trans
fer of licences is unsatisfactory. '
R.H.A. Activities in the North-East.
The first annual general meeting of the northern regional area of the Road Haulage Association will be held at the Crown Hotel, Clayton Street West, Newcastle-on-Tyne, to-day (Friday), at 7.30 p.m.
On the following day, at 6.30 p.m., the Tyneside and Livestock General Hauliers Association is holding its annual meeting at the Royal Hotel, Hexham, after which an open meeting of hauliers will be held under the auspices of the committee for the northern region area of the R.H.A. At this meeting Mr. W. Donaldson Wright, a member of the BMA.. National Council, and Mr. Harry Clark, one of the Association's divisional organizers, will speak.
Armstrong-Saurer in Ireland.
Armstrong Saurer Commercial Vehicles, Ltd., Thames House, Westminster, London, S.W.1, has recently issued an interesting booklet entitled " Armstrong-Saurer in Ireland," which is produced in connection with the Royal Ulster Agricultural Society's Show, now taking place at Belfast and closing to-morrow (Saturday). At this event three Armstrong-Saurer vehicles are exhibited, these being the Dominant six-Wheeler, the Diligent four-wheeler and the Durable four-wheeler, each being equipped with an Ironclad platform body.
The booklet gives brief specification details of the range of Armstrong-Saurer oil-engined goods vehicles and indicates the service facilities available for Irish
users.
Competitions for Coaehbuiltiers: Entries on View.
The exhibits of drawings and examples of handicraft entered for the Competitions arranged jointly by the Worshipful Company of Coachmakers and Coach Harness Makers of London, the Society of Motor Manufacturers and Traders, and the Institute of British Carriage and Automobile Manufacturers to stimulate improvement in the design of bodywork 4 for motor vehicles will be on view to the public, without charge, from June 5-10 inclusive, at the Iryvie Hall, The Polytechnic, 809, Regent Street, London, W.1. The judging takes place on June 2.
One of the competitions was expressly set aside for a working drawing of a 26-32-seater saloon coach.
Novel Traffic-control System in London.
A unique system of traffic control was switched on in Piccadilly last Monday by Mr. F. G. Bristow, C.B.E., vicechairman of the traffic committee of 'Westminster City Council, and secretary of the B.R.F. and the C.M.U.A. He thus brought into operation the most ambitious and complex experiment which has yet been introduced into this country, and it is the first time that a combination of the fixed-time method and vehicle-operated control has been employed here.
I.T.A. Area Committee for Scotland.
A meeting was recently held in Glasgow for the purpose of giving consideration to the establishment of a Scottish branch of the Industrial Transport Association, and it was decided to set up an area committee to disseminate information in Scotland regarding the objects of the I.T.A. The meeting was presided over by Mr. 0. S. Vickeroy.
Mr. J. A. Dunnage, honorary general secretary, explained the objects of the Association, and referred to the progress it ha q made since it was formed over five years ago.
Manchester's Fire-brigade Activities.
In his annual report to the watch committee Mr. Daniel D. Sloan, chief officer of Manchester Corporation's firebrigade, mentions that the equipment of the brigade comprises one 82-ft. escape without hose, 11 escapes with hose, one motor turntable escape, four motor pumps With escapes, 10 motor pumps with ladders, two motor hose carriages, one rescue van and two motor lorries. The brigade has eight stations and the equipment is distributed between them.
The total number of fires attended during the year was 977, an increase of 148 on the previous year. The total loss was estimated at £289,000 and the value of the property at risk nearly £7,500,000. Over 25 per cent, of the calls were received on the fire-alarm system. The total strength of the brigade is 158 men.
Overhanging Loads: Amendment of Law Urged.
Barks County Council is recommended to ask the County Councils Association to urge the Minister of Transport to make it compulsory for motor vehicles, including trailers, to carry red rear lamps placed so that not more than 6 ft. of the vehicles or loads project behind the lamps.
This action is recommended as a result of an accident in which a car collided with a projecting load of timber drawn by a trailer.
Notts Iesues More Lieenees.
Notts County Licensing Committee reports that Road Fund licences issued, last year, from the Shire Hall, numbered 68,427 and from post offices 6,365, as compared with 65,749 and 7,036 respectively in the previous year. As the result of revisions carried out by the Traffic Commissioners, a number of hackney vehicles has ceased to operate, whilst others have been confined to goods carrying.
Tags
Organisations
:
Tyneside and Livestock General Hauliers Association
,
Chamber of Commerce Office
,
Livestock General Hauliers Association
,
District Traffic Association
,
National Council
,
Imperial College of Science and Technology
,
Society of Chemical Industry
,
Society of Motor Manufacturers
,
British Association Fuel Economy Committee
,
International Congress
,
Road Haulage Association
,
County Councils Association
,
Territorial Army
,
Federation of British Industries
,
Royal Ulster Agricultural Society
,
Westminster City Council
,
Standing Committee
,
BMA
,
Progressive Traffic Managers Association
,
Removers Association
,
Municipal High School of Commerce
,
Notts County Licensing Committee
,
Royal Commission on Transport
,
Industrial Transport Association
,
I.T.A. Area Committee for Scotland
,
Congress
,
Institute of British Carriage and Automobile Manufacturers
,
Federal Government
,
County Council
,
House of Lords
,
Furniture Warehousemen and Removers Association
,
Road Fund
,
Fuel Research Board
,
Society of Motor Manufacturers and Traders
,
United States National Guard
,
House of Commons
People
:
H. P. Henry
,
E. C. Marston
,
George Beharrell
,
Leslie Walton
,
J. A. Bromley
,
Frost
,
John Beattie Crozier
,
Harry Clark
,
Daniel D. Sloan
,
Clement
,
W. Donaldson Wright
,
J. S. Nicholl
,
Meston
,
R. W. Sewill
,
J. Lawson
,
E. H. Blake
,
Herbert Corden Manley
,
Gerald F. Talbot
,
J. A. Dunnage
,
Frank F. Fowler
,
C. D. Stanley
,
T. A. Thomson
,
G. Dutfield
,
Norman A. Hardie
,
F. G. Bristow