A Clever Steering Stabilizer
26th May 1933
Page 38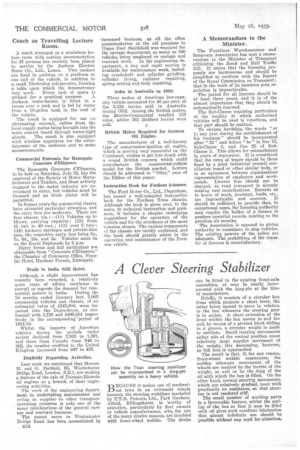 Page 38, 26th May 1933 —
A Clever Steering Stabilizer
Close
BECATJSE it makes use of mechanical laws in an extremely simple manner, the steering stabilizer marketed by T.T.N. Patents, Ltd., Park Gardens, Alfold, Billingshuret, is worthy of attention, particularly by. fleet owners or vehicle manufacturers, who, for one of the many elusive reasons, are troubled with front-wheel wobble. The device
can be fitted to the existing front-axle assemblies, or may be neatly incorporated with the king-pin at the time of manufacture.
Briefly, it consists of a circular box from which projects a short lever, the latter being caused to move in relation to the box whenever the steering gear is in action. A short extension of the lever within the box moves to and fro and, by means of a pivoted block sliding in a groove, a circular weight is made to oscillate. Small steering movements either side of the central position cause relatively large angular movement of the weight, this decreasing, however, as frill lock is approached.
The result is that, if, for any reason, front-wheel wobble commences, tho sudden sideways movements of the wheels are resisted by the inertia of the weight, as well as by the drag of the oil with which the box is filled. On the other hand, normal steering movements, which are relatively gradual, meet with practically no resistance, so that steering is not rendered stiff.
The small number of working parts is a favourable feature, whilst the sealing of the box so that it may be filled with oil gives such excellent lubrication that almost indefinite use should be possible without any need for attention.