Passing Comments
26th May 1933
Page 34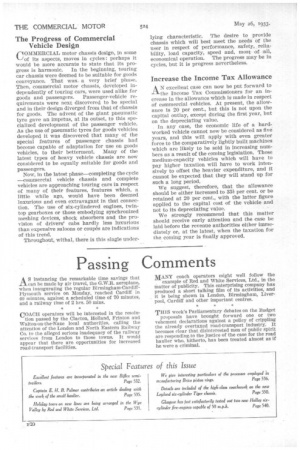 Page 35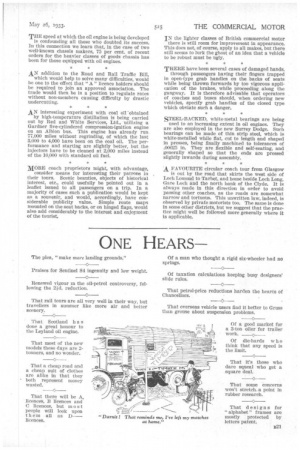 Page 34, 26th May 1933 —
Passing Comments
Close
A S instancing the remarkable time savings that tican be made by air travel, the G.W.R. aeroplane, when inaugurating the regular Birmingham-CardiffPlymouth service on Monday, reached Cardiff in 40 minutes, against a scheduled time of 70 minutes, and a railway time of 2 hrs. 50 mins.
COACH operators will be interested in the resolu
tion passed by the Clacton, Holland, Frin ton and Walton-on-the-Naze local authorities, calling the attention of the London and North Eastern Railway Co. to the alleged serious inadequacy of the railway services from London to those towns. It would appear that there are opportunities for increased road-transport facilities.
MANY coach operators might well follow the example of Red and White Services, Ltd., in the matter of publicity. This enterprising company has produced a short talking film of its activities, and it is being shown in London, Birmingham, Liverpool, Cardiff and other important centres.
THIS week's Parliamentary debates on the Budget
proposals have brought forward one or two vehement declarations against a policy of crippling the already overtaxed road-transport industry. It becomes clear that disinterested men of public spirit are responding.to the justice of the case for the road haulier who, hitherto, has been treated almost as if he were a criminal.
THE speed at which the oil engine is being developed is confounding all those who doubted its success. In this connection we learn that, in the case of two well-known chassis makers, 75 per cent, of recent orders for the heavier classes of goods chassis has been for those equipped with oil engines.
AN addition to the Road and Rail Traffic Bill,
which would help to solve many difficulties, would be one to the effect that " A " licence holders should be required to join an approved association. The trade would then be in a position to regulate rates without non-members causing difficulty by drastic undercutting.
AN interesting experiment with coal oil 'obtained by high-temperature distillation is being carried out by Red and White Services, Ltd., utilizing a Gardner five-cylindered compression-ignition engine on an Albion bus. This engine has already run 77,000 miles without regrinding, of which the last 3,000 to 4,000 have been on the coal oil. The performance and starting are slightly better, but the injectors have to be cleaned at 2,000 miles instead of the 10,000 with standard oil fuel.
MORE coach proprietors might, with advantage, consider means for interesting their patrons in their tours. Scenic beauties, objects of historical interest, etc., could usefully be pointed out in a leaflet issued to all passengers on a trip. In a majority of cases such a publication would be kept as a souvenir, and would, accordingly, have considerable publicity value. Simple route maps mounted on the seat backs, or on hinged flaps, would also add considerably to the interest and enjoyment of the tourist. IN the lighter classes of British commercial motor
there is still room for improvement in appearance. This does not, of course, apply to all makes, but there still seems to lurk the ghost of an idea that a vehicle to be robust must be ugly.
THERE have been several cases of damaged hands, through passengers having their fingers trapped in open-type grab handles on the backs of seats while being thrown forwards by too vigorous application of the brakes, while proceeding along the gangway. It is therefore advisable that operators of coaches and buses should, when ordering new vehicles, specify grab handles of the closed type which obviate such a danger.
STEEL-BACKED, white-metal bearings are being used to an increasing extent in oil engines. They are also employed in the new Surrey Dodge. Such bearings can be made of thin strip steel, which is white-metalled while flat, cut to length and shaped in presses, being finally machined to tolerances of .00025 in. They are flexible and self-seating, and generally shaped so that the ends are pressed slightly inwards during assembly.
A FAVOURITE circular coach tour from Glasgow IS out by the road that skirts the west side of Loch Lomond to Tarbet, and home beside Loch Long, Gare Loch and the north bank of the Clyde. It is always made in this direction in order to avoid passing other coaches, as the roads are somewhat narrow and tortuous. This unwritten law, indeed, is observed by private motorists too. The same is done in some other districts, but we suggest that the practice might well be followed more generally where it is applicable.