Local versus Route Licensing
26th May 1933
Page 33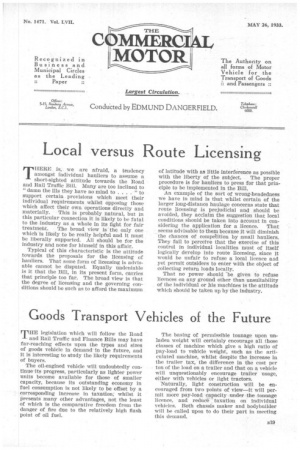 Page 33, 26th May 1933 —
Local versus Route Licensing
Close
THERE is, we are afraid, a tendency amongst individual hauliers to assume a short-sighted attitude towards the Road and Rail Traffic Bill. Many are too inclined to "damn the ills they have no mind to . . . . "to support certain provisions which meet their individual requirements whilst opposing those which affect their own operations directly and materially. This is probably natural, but in this particular connection it is likely to be fatal to the industry as a whole in its fight for fair treatment. The broad view is the only one which is likely to be really helpful and it must be liberally supported. All should be for the industry and none for himself in this affair.
Typical of this characteristic is the attitude towards the proposals for the licensing of hauliers. That some form of licensing is advisable cannot be disputed. Equally undeniable is it that the Bill, in its present form, carries that principle too far. The broad view is that the degree of licensing and the governing conditions should be such as to afford the maximum of latitude with as little interference as possible with the liberty of the subject. The proper procedure is for hauliers to press for that principle to be implemented in the Bill.
An example of the sort of wrong-headedness we have in mind is that whilst certain of the larger long-distance haulage concerns state that route licensing is prejudicial and should be avoided, they acclaim the suggestion that local conditions should be taken into account in considering the application for a licence. That seems advisable to them because it will diminish the chances of competition by small hauliers. They fail to perceive that the exercise of this control in individual localities must of itself logically develop into route licensing, since it would be unfair to refuse a local licence and yet permit outsiders to enter with the object of collecting return loads locally.
That no power should be given to refuse licences on any ground other than unsuitability of the individual or his machines is the attitude which should be taken up by the industry.