Roads Limit Bus Services in South Wales A FTER a career
26th March 1948
Page 53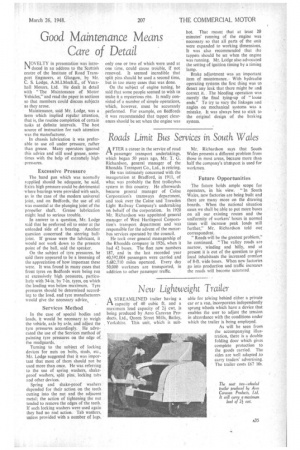 Page 53, 26th March 1948 —
Roads Limit Bus Services in South Wales A FTER a career
Close
in the service of road passenger transport undertakings, which began 50 years ago, Mr. T. G. Richardson, general manager of the Rhondda Transport Co., Ltd., is retiring.
He was intimately concerned with the inauguration at Bradford, in 1911, of what was probably the first trolleybus system in this country. He afterwards became general manager of Colne Corporation's tramways department, and took over the Collie and Trawden Light Railway Company's undertaking on behalf of the corporation. In 1920 Mr. Richardson was appointed general manager. of West Hartlepool Corporation's transport department and was responsible for the advent of the motorbus services operated by the council.
He took over general managership of the Rhondda company in 1926, when it had 42 buses. The fleet now numbers 187, and in the last recorded year 40,592,004 passengers were carried and 5,682,710 miles operated. Every day 50,000 workmen are transported, in addition to other passenger. traffic. Mr. Richardson says that South Wales presents a different problem from those in most areas, because more than half the company's transport is used for workmen.
Future Opportunities
The future holds ample scope for operators, in his view. "In South Wales, new factories are being built and there are many more on the drawing boards. When the national situation eases we shall be able to put more buses on all our existing routes and the uniformity of workers' hours in normal times will increase peak loads still further," Mr. Richardson told out correspondent.
"Roads will be the greatest problem," he continued. "The valley roads are narrow, winding and hilly, and at present it is out of the question to give local inhabitants the increased comfort of 8-ft. wide buses. When new factories go into production and traffic increases the roads will become saturated.