Metalastik Shackle Pins for Heavies .1 )
26th March 1948
Page 52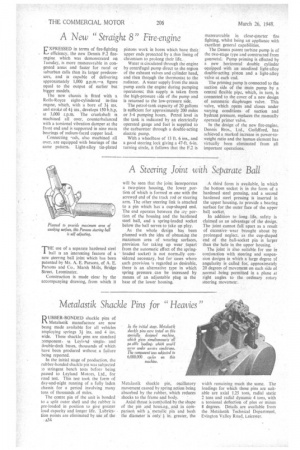 Page 52, 26th March 1948 —
Metalastik Shackle Pins for Heavies .1 )
Close
UBBER-BONDED shackle pins of Metalastik manufacture are now being made available for all vehicles employing springs 3i ins. and 4 ins. wide. These shackle pins are standard ;:omponents in Leyland singleand double-deck buses, thousands of which have been produced without a failure being reported.
In the initial stage of production, the rubber-bonded shackle pin was subjected x• stringent bench tests before being passed to Leyland Motors. Ltd., for road test. This test took the form of day-and-night running of a fully laden chassis for a period involving many tens of thousands of miles.
The centre pin of the unit is bonded to a split outer shell and the rubber is pre-loaded in position to give greater load capacity and longer life. ',Lubrication points are eliminated by aiSe of the !a34 Metalastik shackle pin, oscillatory movement caused by spring action being absorbed by the rubber, which reduces shocks to the frame and body.
Axial thrust is contlailled by the shape of the pin and housing, and in cornparison with ametallic pin and bush the diameter is only. in. greater, the
width remaining much the same. The loadings for which these pins are suitable are axial 1.25 tons, radial static 2 tons and radial dynamic 4 tons, with a torsional deflection of plus or minus 8 degrees. Details are available from the Metalastik Technical Department, Evington Valley Road, Leicester.