A New "Straight 8" Fire-engine XPRESSED in terms of fire-fighting
26th March 1948
Page 52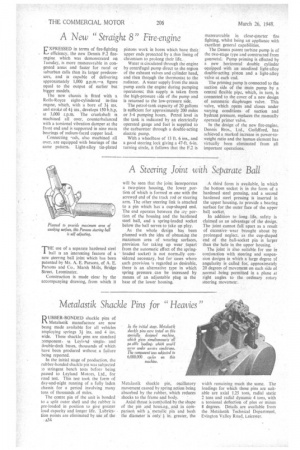 Page 52, 26th March 1948 —
A New "Straight 8" Fire-engine XPRESSED in terms of fire-fighting
Close
efficiency, the new Dennis F.2 fireengine. which was demonstrated on Tuesday, is more manueuvrable in congested areas and faster for rural or suburban calls than its larger predecessors, and is capable of delivering approximately 1,000 g.p.m.—a figure equal to the output of earlier but bigger models.
The new chassis is fitted with a Rolls-Royce eight-cylindered in-line engine, which, with a bore of 3i ins. and stroke of ft ins., develops l50b.h.p. at 3.000 r.p.m. The crankshaft is machined all over, counterbalanced with a torsional vibration damper at the front end and is supported in nine main bearings of indium-faced copper lead.
Connecting -ads, also machined all over, are equipped with bearings of the same pattern. Light-alloy tin-plated pistons work in bores which have their.' upper ends protected by a thin lining of chromium to prolong their life.
Water is circulated through the engine by centrifugal pump direct to the region of the exhaust valves and cylinder head, and then thrqugh the thermostat to the radiator. A water supply from the main pump cools the engine during pumping operations; this supply is taken from the high-pressure side of the pump and is returned to the low-pressure side.
The petrol-tank capacity of 20 gallons is sufficient for approximately 200 miles or 3-4 pumping hours. Petrol level in the tank is indicated by an electrically operated gauge and fuel is supplied to the carburetter through a double-acting electric pump.
With a wheelbase of 13 ft. 6 ins., and a good steering lock giving a 47-ft. 6-in. turning circle, it follows that the F.2 is manctuvrable in close-quarter fire fighting, whilst being an appliance with excellent general capabilities.
The Dennis patent turbine pump is of the two-stage type and constructed from gunmetal. Pump priming is effected by a new horizontal double cylinder equipped with an anodized light-alloy double-actihg piston and a light-alloy valve at each end.
The priming pump is connected to the suction side of the main pump by a central flexible pipe, which, in turn, is connected to the cover of a new design of automatic diaphragm valve. This valve, which opens and closes under varying conditions of suction and hydrant pressure, replaces the manually operated primer valve.
In the design of the new fire-engine, Dennis Bros., Ltd., Guildford, has achieved a marked increase in power-toweight ratio and the human element has virtually been eltminated from all important operations.