TO THE SEA IN 20-MILE HOPS
26th March 1948
Page 34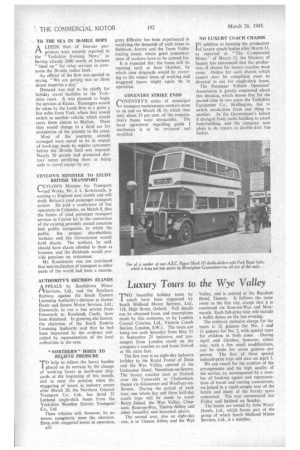 Page 34, 26th March 1948 —
TO THE SEA IN 20-MILE HOPS
Close
ALEEDS firm of hire-car proprietorswere recently reported in the "Yorkshire Evening News" as having already £600 worth of business " lined up" for relay services to overcome the 20-mile radius limit.
A.1 official of the firm was quoted as saying. "We are getting two or three dozen inquiries a day."
Demand was said to be chiefly for holiday travel facilities to the Yorkshire coast. It was planned to begin the services at Easter. Passengers would be taken by the Leeds firm to a point a few miles from York, where they would switch to another vehicle, which would carry them almost to Malton. There they would change to a third car for completion of the journey to the coast.
Most of the journeys already arranged wece stated to be in respect of bookings made by regular customers before the 20-mile limit was imposed. Nearly 50 people had presented doctors' notes certifying them as being unfit to travel except by car.
CEYLON'S MINISTER TO STUDY BRITISH TRANSPORT
CEYLON'S Minister for Transport and Works, Mr. J. L. Kotalawala, is coming to England next month and will study Britain's road passenger transport system He Jold a conference of bus operators in Colombo, on March 8, that the future of road passenger transport services in Ceylon layin the conversion of the existing privately owned concerns into public companies, in which the public, the present shareholders. workers and the Government would hold shares. The workers, he said. should have shares allotted to them as bonuses, and the dividends would provide pensions on retirement.
Mr. Kotalawala was not convinced that natiOnalization of transport in other parts of the world had been a success.
AUTHORITY'S DECISION STANDS
APPEALS by Southdown Motor Services, Ltd., and the Southern Railway against the South Eastern Licensing Authority's decision to license Hants a,nd Sussex Motor Services, Ltd., Emsworth, to run a bus service from Emsworth to Rowlands Castle, have been dismissed. In granting the licence, the chairman of the South Eastern Licensing Authority said that he had been impressed by the evidence submitted by representatives of' the local authorities in the area.
"NORTHERN" HIRES TO RELIEVE PRESSURE
TO help to relieve the heavy burden
placed on its services by the change of working hours in north-east shipyards at the beginning of this month, and to meet the position when the staggering of hours in industry ceases after March 28, the Northern General Transport Co., Ltd., has hired 25 Leyland single-deck buses from the Yorkshire Woollen District Transport Co., Ltd.
These vehicles will, however, by no means completely meet the situation. Even with staggered hours in operation, A32
great difficulty has been experienced in satisfying the demands of such areas as Hebburn. Jarrow and the Team Valley trading estate, where great concentrations of workers have, to be catered for.
It is expected that the buses will be retained until at least October, by which time shipyards would be reverting to the winter times of working and staggered hours might again be in operation.
COVENTRY STRIKE ENDS
COVENTRY'S strike of municipal transport maintenance workers came to an end on March 18, by which time only about 25 per cent. of the corporation's buses were serviceable. The local agreement regarding grade I mechanics is to he reviewed and modified.
NO LUXURY COACH CHASSIS
I N addition to banning the production of luxury coach bodies after March 31, as reported in "The Commercial Motor" of March 12, the Ministry of Supply has announced that the production .of chassis for luxury coaches must cease.' Orders for such chassis which cannot now be completed must be diverted to use for single-deck buses.
The Passenger Vehicle . Operators' Association is greatly concerned about this decision, which means that for the second time in two years the Yorkshire Equipment Co., Bridlington, has to switch production from one thing to another. At the Government's behest it changed from yacht building to coach bodybuilding, and the company now plans to do repairs to double-deck bus bodies.