Passenger Transport News
26th March 1948
Page 33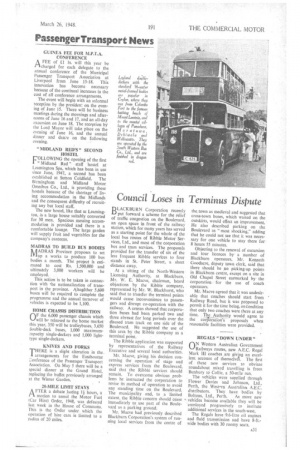 Page 33, 26th March 1948 —
Passenger Transport News
Close
GUINEA FEE FOR M.P.T.A. CONFERENCE
AFEE of EI Is. will this year be charged for each delegate to the annual conference of the Municipal Passenger Transport Association at Liverpool from June 15-18. This innovation has become necessary because of the continual increases in the cost of all conference arrangements.
The event will begin with an informal reception by the president on the evening of June 15. There will be business meetings during the mornings and afternoons of June 16 and 17, and an all-day excursion on June 18. The reception by the Lord Mayor will take place on the evening of June 16, and the annual dinner and &Ire on the following evening.
"MIDLAND RED'S" SECOND HOSTEL VOLLOWING the opening of the first *Midland Red " staff hostel at Leamington Spa, which has been in use since June, 1947, a second has been established at Sutton Coldfield. The Birmingham and Midland Motor Omnibus Co., Ltd., is providing these hostels because of the shortage of living accommodation in the Midlands and the consequent difficulty of recruiting any but local staff.
The new hostel, like that at Leamington, is a large house suitably converted for 30 men. Spacious messing accommodation is provided and there is a comfortable lounge. The large garden will supply fruit and vegetables for the company's canteens.
MADRAS TO BUILD BUS BODIES NAADRAS Province proposes to set Inv a works to produce 100 bus bodies a month. The project is estimated to cost Rs. 1,500,000 and ultimately 3,000 workers will be employed.
This action is to be taken in connection With the nationalization of transport in the province. Altogether 5,600 buses will be required to complete the programme and the annual turnover of vehicles is expected to be 1,100.
HOME CHASSIS DISTRIBUTION
()F the 6,000 passenger chassis which will be released to the home market this year, 350 will be trolleybuses, 3,650 double-deck buses, 1,000 maximum:opacity single-deckers and 1,000 lighttype single-deckers.
KNIVES AND FORKS THERE is a slight alteration in the, arrangements for the Eastbourne Conference of the Passenger Transport Association. On May 5 there will be a special dinner at the Grand Hotel, replacing the buffet previously arranged at the Winter Garden.
20-MILE LEWIT STAYS
A FTER a debate lasting 4 hours, a motion to annul the Motor Fuel (Car Hire) Order, 1948, was defeated last week in the House of Commons. This is the Order under, which the operation of hire cars is limited to a radius of 20 miles.