Big Task in Passenger Transport Conversion,
26th March 1948
Page 26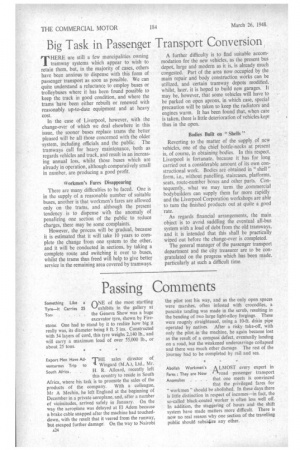 Page 26, 26th March 1948 —
Big Task in Passenger Transport Conversion,
Close
THERE are still a few muncipalities owning tramway systems which appear to wish to retain them, but, in the majority of cases, others have been anxious to dispense with this form of passenger transport as soon as possible. We can quite understand a reluctance to employ buses or trolleybuses Where it has been found possible to keep the track in good condition, and where the trams have been either rebuilt or renewed with reasonably up-to-date equipment and at heavy cost.
In the case of Liverpool, however, with the change-over of which we deal elsewhere in this issue, the sooner buses replace trams the better pleased will be all those concerned with the older system, including officials and the public. The tramways call for heavy maintenance, both as regards vehicles and track, and result in an increasing annual loss, whilst those buses which are already in operation, although comparatively small in number, are producing a good profit.
Workmen's Fares Disappearing There are many difficulties to be faced. One is in the supply of a reasonable number of suitable buses, another is that workmen's fares are allowed only on the trams, and although the present tendency is to dispense wit'h the anomaly of penalizing one section of the public to reduce charges, there may be some complaints.
However, the process will be gradual, because it is estimated that it will take 10 years to complete the change from one system to the other, and it will be conducted in sections, by taking a complete route and switching it over to buses, whilst the trams thus freed will help to give better service in the remaining area covered by tramways. A further difficulty is to find suitable accommodation for the new vehicles, as the present bus depot, large and modern as it is, is already much congested. Part of the area now occupied by the main repair and body construction works can be utilized, and certain tramway depots modified, whilst, later, it is hoped to build new garages. It may be, however, that some vehicles will have to be parked on open aprons, in which case, special precaution will be taken to keep the radiators and engines warm. It has been found that, when care is taken, there is little deterioration of vehicles kept thus in the open.
Bodies Built on " Shells " Reverting to the matter of the supply of new vehicles, one of the chief bottle-necks at present is, of course, in obtaining bodies. In this respect. Liverpool is fortunate, because it has for long carried out a considerable amount of its own constructional work. Bodies are obtained in " shell " form, i.e., without panelling, staircases, platforms, seats, route-number boxes and other parts. Consequently, what we may term the .commercial bodybuilders can supply them far more rapidly and the Liverpool Corporation workshops are able to turn the finished products out at quite a good rate.
As regards financial arrangements, the main object is to avoid saddling the eventual all-bus system with a load of debt from the old tramways, and it is intended that this shall be practically wiped out before the change-over is completed.
The general manager of the passenger transport department and the city treasurer are to be congratulated on the progress which has been made, particularly at such a difficult time.