Striking New Coaches
26th March 1937
Page 52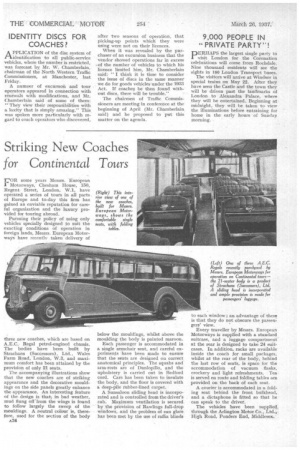 Page 52, 26th March 1937 —
Striking New Coaches
Close
for Continental Tours OR some years Messrs. European 1 Motorways, Chesham House, 150, Regent Street, London, W.1, have operated a series of tours in all parts. of Europe and to-day this firm has gained an enviable reputation for careful organization and the luxury provided for touring abroad.
Pursuing their policy of using only vehicles specially designed to suit the exacting conditions of operation in foreign lands, Messrs. European Motorways have recently taken delivery of three new coaches, which are based on A.E.C.• Regal petrol-engined chassis. The bodies have been built by Strachans (Successors), Ltd., Wales Farm Road, London, W.3, and maximum comfort has been attained by the provision of only 21 seats.
The accompanying illustrations show that the new coaches are of striking appearance and the decorative mouldings on the side panels greatly enhance the appearance. An interesting feature of the design is that; in bad weather, mud flung off from the wings is found to follow largely the sweep of the mouldings. A neutral colour is, therefore, used for the section of the body
A34
below the mouldings, whilst above the moulding the body is painted maroon.
Each passenger is accommodated in a single armchair seat, and careful experiments have been made to ensure that the seats are designed on correct anatomical principles. The squabs and arm-rests are of Dunlopillo, and the upholstery is carried out in Bedford cord. Care has been taken to insulate the body, and the floor is covered with a deep-pile rubber-lined carpet.
A Sunsaloon sliding head is incorporated and is controlled from the driver's cab: Maximum ventilation is secured by the provision of Rawlings full-drop windows, and the problem of sun glare has been met by the use of raffia blinds to each window ; an advantage of these is that they do not obscure the passengers' view.
Every traveller by Messrs. European Motorways is supplied with a standard suitcase, and a luggage compartment at the rear is designed to take 24 suitcases. In addition, racks are available inside the coach for small packages, whilst at the rear of the body, behind the last row of seats, is space for the accommodation of vacuum flasks, crockery and light refreshments. Tea is served en route and folding tables are provided on the back of each seat.
A courier is accommodated in a folding seat behind the front bulkhead, and a dictaphone is fitted so that he can speak to the driver.
The vehicles have been supplied through the Arlington Motor Co., Ltd., High Road, Ponders End, Middlesex.