IDENTITY DISCS FOR COACHES?
26th March 1937
Page 52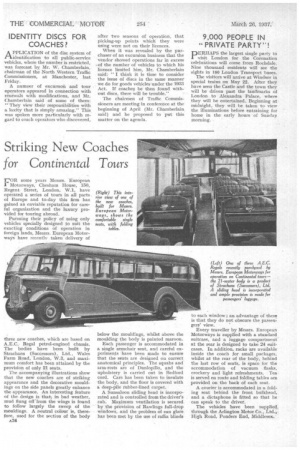 Page 52, 26th March 1937 —
IDENTITY DISCS FOR COACHES?
Close
Keywords :
A PPLICATION of the disc system of i-Videntification to all public-service vehicles, where the number is restricted, was forecast by. Mr. W. Chamberlain, chairman of the North Western Traffic Commissioners, at Manchester, last Friday.
A numoer of excursion and tour operators appeared in connection with renewals with modifications, and Mr. Chamberlain said of some of them: " They view their responsibilities with a laxity that is simply amazing." This was spoken more particularly with regard to coach operators who discovered, after two seasons of operation, that pickiug-up points which they were using were not on their licences.
When it was revealed by the purchaser of an excursion business that the vendor showed operations far in excess of the number of vehicles to which his licence limited him, Mr. Chamberlain said: " I think it is time to consider the issue of discs in the same manner we do for goods vehicles under the 1033 Act. If coaches be then found without discs, there will be trouble."
The chairmen of Traffic Commissioners are meeting in conference at the beginning of April (Mr. Chamberlain said) and he proposed to put this matter on the agenda.