Is the i g3o Act a Failure?
26th March 1937
Page 51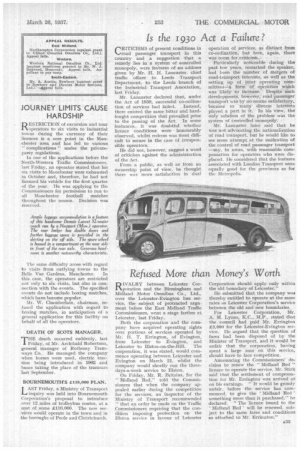 Page 51, 26th March 1937 —
Is the i g3o Act a Failure?
Close
rRITICISMS of present conditions in '4-soroad passenger transport in this country and a suggestion that a remedy lies in a system of controlled monopoly, were features of an address given by Mr. H. H. Lancaster, chief traffic officer to Leeds Transport Department,to the Leeds branch of the Industrial Transport Association, last Friday, Mr. Lancaster declared Chat, under the Act of 1930, successful co-ordina tion of services had failed. Instead, there existed the same hitter and hardfought competition that prevailed prior to the passing of the Act. In some instances,, it was doubtful whether licence conditions were honourably observed, whilst redress was most difficult to secure in the case of irresponsible operators.
He did not, however, suggest a word of criticism against the administration of the Act.
From a public, as well as from an ownership point of view, he thought there was more satisfaction in dual operation Of . services, is distinct from co-orclinatiOn, but here, again, there was room for_criticisna.
• Particularly noticeable during the past few years, remarked the speaker, had been the number of mergers of road-transport interests, as well as the setting. Up of joint operating-cornmitt'ees--=a. form of operation Which was likely to increase. Despite Such develoPments, however, road passenger transport 'was by no means satisfactory, because so many diverse interests played a part in it. In his view, the only solution of the problem was the system of controlled monopoly.
Mr. Lancaster later said that he was not advocating the nationalization of road transport, but he would like to see some attempt at the unification of the control of road passenger transport —say, in areas, with reasonable compensation for operators who were displaced. He considered that the features associated with London Transport were equally good for the provinces as for the Metropolis.