SIX OPERATORS IN WELSH MERGER
26th March 1937
Page 50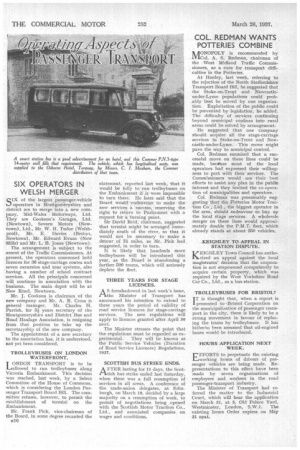 Page 50, 26th March 1937 —
SIX OPERATORS IN WELSH MERGER
Close
SIX of the largest Passenger-vehicle operators in Montgomeryshire and district are to merge into a new company, -Mid-Wales Motorways, Ltd. They are Cookson's Garages, Ltd. (Newtown), Severn Motors (Newtown)', Ltd., Mr. W. IL Tudor (Welshpool), Mr. E. Davies (Bettws, Newtown), Mr. Edward Evans (New Mills) and Mr. L. B. Jones (Newtown).
The arrangement is -subject to the assent of the Traffic Commissioners. At present, the operators concerned hold licences for 86 stage-carriage routes and seven excursion and tour systems, also having a number of school contract services. All the principals concerned will continue in association with the business. The main depot will be at New Road, Newtown.
Mr. J. Cookson is chairman of the new company and Mr. A. R. Cross is general manager. Mr. Charles H. Parrish, for 34 years secretary of the Montgomeryshire and District Bus and Road Haulage Association, is resigning from that position to take up the secretaryship of the new company.
The appointment of a new secrelary to the association has, it is understood, not yet been considered.
TROLLEYBUSES ON LONDON WATERFRONT.
ONDON TRANSPORT is to be L./allowed to run trolleybuses along Victoria Embankment. This decision was reached, last week, by a Select Committee of the House of Commons, which is considering the London Passenger Transport Board Bill. The committee refuses, however, to permit the establishment of termini on the Embankment.
Mr. Frank Pick, vice-chairman of the Board, in some degree recanted the 3316
statement, reported last week, that it would be folly to run trolleybuses on the Embankment if .it were impossible to turn there. He later, said that the Board wouldendeaaioar to make the new services a success, reserving the right to return to Parliament with a request for a turning point.
Sir David Reid, chairman, suggested that termini might he arranged immediately south of the river, so that it would not be necessary to make a detour of 2imiles, as Mr. Pick had suggested, in order to turn.
It is likely that hundreds more trolleybuses will be introduced this year, as the Board is abandoning a further 500 trams, which will seriously deplete the fleet.
THREE YEARS FOR STAGE LICENCES.
AS foreshadowed in last week's issue, the Minister of Transport has announced his intention to extend to three years the period of validity of road service licences for stage-carriage services. The new regulations will apply to licences granted after April 30 next, The Minister stresses the point that the regulations must be regarded as ex-. perimental. They will be known as the Public Service Vehicles (Duration of Road Sen.-ice Licences) Regulations, 1937.
SCOTTISH BUS STRIKE ENDS.
AFTER lasting for 11 days, the Scottish bus strike ended last Saturday, when there was a full resumption of services in all areas. A conference of the trade-union delegates, at Edinburgh, on March 19, decided by a large majority on a resumption of work, to permit of negotiations being opened with the Scottish Motor Traction Co., Ltd., and associated companies on wages and conditions.