Oilers Supreme at the Paris Tractor Show
26th March 1937
Page 48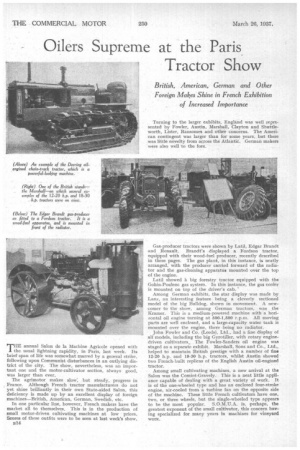 Page 49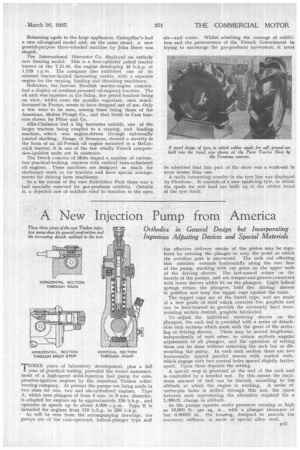 Page 48, 26th March 1937 —
Oilers Supreme at the Paris Tractor Show
Close
British, American, German and Other Foreign Makes Shine in French Exhibition of Increased Importance
THE annual Salon de la Machine Agricole opened with the usual lightning rapidity, in Paris, last week. Its brief span of life was somewhat marred by a general strike, following upon Communist disturbances in an outlying district of the city. The show, nevertheless, was an important one and the motor-cultivator section, always good, was larger than ever.
The agrimotor makes slow', but steady, progress in France. Although French tractor manufacturers do not yet shine brilliantly in their own State-aided Salon, this deficiency is made up by an excellent display of foreign machines--British, American, German, Swedish, etc.
In one particular line, however, French makers have the market all to themselves. This is in the production of small motor-driven cultivating machines at low prices. Scores of these outfits were to be seen at last week's show.
B14 Turning to the larger exhibits, England was well represented by Fowler, Austin, Marshall, Clayton and Shuttleworth, Lister, Ransomes and other concerns. The American contingent was larger than for some years, but there was little novelty from across the Atlantic. German makers were also well to the fore.
Gas producertractors were shown by Latil, Edgar Brandt and Renault. Brandt's displayed a Fordson tractor, equipped with their wood-fuel producer, recently described in these pages. The gas plant, in this instance, is neatly arranged, with the producer carried forward of the radiator and the gas-cleaning apparatus mounted over the top of the engine.
Latil showed h big forestry tractor equipped with the Gohin-Poulenc gas system. In this instance, the gas cooler is mounted on top of the driver's cab.
Among German exhibits, the star display was made by Lanz, an interesting feature being a cleverly sectioned model of the big Bulldog, shown in movement. A newcomer to the show, among German tractors, was the Kramer. This is a medium-powered machine with a horizontal oil engine turning at 500-1,500 rpm. All moving parts are well enclosed, and a large-capacity water tank is mounted over the engine, there being no radiator.
John Fowler and Co, (Leeds), Ltd., had a fine display of all models, including the big Gyrotiller, with rotary enginedriven cultivators, The Fowler-Sanders oil engine was staged as a separate exhibit. Marshall, Sons and Co., Ltd., helped to maintain British prestige with a number of -fine 12-20 h.p, and 18-30 h.p. tractors, whilst Austin showed two French-built replicas of the English Austin oil-engined tractor.
• Among small cultivating machines, a new arrival at the Salon was the Comiot-Gravely. This is a neat little appliance capable of dealing with a great variety of work. It is of the one-wheeled type and has an enclosed four-stroke engine, air-cooled from a turbine fan on the opposite side of the machine. These little French cultivators have one, two, or three wheels, but the single-wheeled type appears to he the most popular. S.O.M.U.A. is, perhaps, the greatest exponent of the small cultivator, this concern having specialized for many years in machines for vineyard work.
Returning again to the large appliances, Caterpillar's had a new oil-engined model and, on the same stand, a new general-purpose three-wheeled machine by John Deere was staged.
The International Harvester Co. displayed an entirely new Deering model. This is a four-cylinder petrol tractor known as the T.D.35, the engine developing 35 b.h.p. at 1,225 r.p.m. The company also exhibited one of its colossal tractor-hauled harvesting outfits, with a separate engine for the reaping, binding and threshing machinery.
Bolinders, the famous Swedish marine-engine concern. had a display of medium-powered oil-engined tractors. The oil unit was supreme at the Salon, few petrol tractors being on view, whilst even the paraffin vaporizer, once muchfavoured in France, seems to have dropped Out of use. Only a. few were to be seen, among them being those of the American. Moline Plough Co., and that fitted to Case tractors shown by Filter and Co.
Allis-Chalmers had a big harvester exhibit, one of the larger tractors being coupled to a reaping and binding machine, which was engine-driven through universally jointed shafting. Douge, of Besancon, showed a novelty in the form of an all-French oil engine mounted in a McCormick tractor; it is one of the few wholly French compression-ignition units yet in existence.
The Dutch concern of Noes staged a number of curious, but practical-looking, tractors with vertical twin-cylindered oil engines. These machines are designed as much for stationary work as for traction and have special arrangements for driving farm machinery.
In a far corner of the vast Exhibition Park there was a hall specially reserved for gas-producer exhibits. Outside it, a dejected row of exhibits tried to function in the open
air—and water. Whilst admiring the courage of exhibitors and the perseverence of the French Government in trying to encourage the gas-producer movement, it must
be admitted that this part of the show was a wash-out in more senses than one.
A really interesting novelty in the tyre line was displayed by Firestone.. It consists of a new spade-lug tyre, in which the spuds for soft land are built up in the rubber tread of the tyre itself.