Useful Features in a New Brake Tester
26th March 1937
Page 33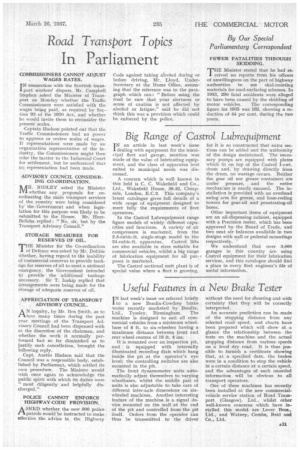 Page 33, 26th March 1937 —
Useful Features in a New Brake Tester
Close
IN last week's issue we referred briefly 1 to a new Bendix-Cowdrey brake tester recently marketed by Bendix, Ltd., Tyseley, Birmingham. The machine is designed to suit all commercial vehicles from a minimum wheelbase of 8 ft. to six-wheelers having a maximum distance between front and rear wheel centres of 18 ft. 4 ins.
It is mounted over an inspection pit, and is equipped with internally illuminated recording dials which hang inside the pit at the operator's eye level; the controlling switches are also mounted in the pit.
The front dynamometer units automatically adjust themselves to varying wheelbases, whilst the middle pair of units is also adjustable to take care of different inter-axle dimensions on sixwheeled machines, Another interesting feature of the machine is a signal device mounted on the wall at the end of the pit and controlled from the pit itself. Orders from the operator can thus be transmitted to the driver
without the need for shouting and with certainty that they will be correctly interpreted.
An accurate prediction can be made of the stopping distance from any selected -road speed, and charts have been prepared which will show at a glance the relationship between the tests on the machine and the actual stopping distance from various speeds on a level dry road. It is thus possible to furnish a certificate showing that, at a specified date, the brakes were in a condition to stop the vehicle in a certain distance at a certain speed, and the advantages of such recorded information will be obvious to all transport operators.
One of these machines has recently been installed at the new commercialvehicle service station of Road Transport. (Glasgow), Ltd., whilst other well-known concerns which have installed this model are Lever Bros., Lid., and Watney, Combe, Reid and Co., Ltd.