Road Transport Topics
26th March 1937
Page 33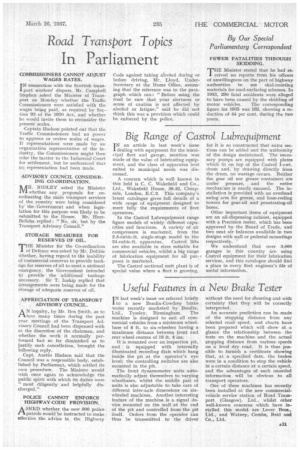 Page 33, 26th March 1937 —
Road Transport Topics
Close
In Parliament
By Our Special Parliamentary Correspondent
COMMISSIONERS CANNOT ADJUST WAGES RATES.
ric connection with the Scottish trans1 port workers' dispute, Mr. Campbell Stephen asked the Minister of Transport On Monday whether the Traffic Commissioners were satisfied with the wages being paid, as required by Section 93 of the 1930 Act, and whether he would invite them to reconsider the present scales.
Captain Hudson pointed out that the Traffic Commissioners had no power to approve or review scales of wages. If representations were made by an organization representative of the industry, the Commissioners might then refer the tnatter to the Industrial Court for settlement, hut he understood that no representation had been made.
ADVISORY COUNCIL CONSIDERING CO-ORDINATION.
AR. RIDLEY asked the Minister .lV1 whether any proposals for coordinating the main transport services of the, country were being considered by the *Government and when legislation for this purpose was likely to be submitted to the House. Mr. HoreBelisha replied : "No, sir, but by the Transport Advisory Council."
STORAGE MEASURES FOR RESERVES OF OIL.
THE Minister for the Co-ordination of Defence was asked by Mr. Dobbie whether, having regard to the inability of commercial concerns to provide tankage for reserves of oil to meet a national emergency, the Governnient intended to provide the additional tankage Uecessary. Sir T. Inskip replied that arrangements were being made for the storage of adequate reserves of oil.
APPRECIATION OF TRANSPORT ADVISORY COUNCIL.
AN inquiry, by Mr. Ben Smith, as to how many times during the past year meetings of the Transport Advisory Council had been dispensed with at the discretion of the chairman, and whether the work it normally performed had so far diminished as to justify such cancellation, brought the following reply.
Capt. Austin Hudson said that the Council was a responsible body, established by Parliament, which settled its own procedure. The Minister would wish once again to acknowledge the public spirit with which its duties were " most diligently and helpfully discharged."
POLICE CANNOT ENFORCE HIGHWAY-CODE PROVISION.
ASHED whether the new 800 police patrols would be instructed to make effective the advice in the Highway
Code against taking alcohol during or before driving, Mr. Lloyd, UnderSecretary at the Home Office, assuming that the reference was to the paragraph which ran: "Before using the road be sure that your alertness or sense of caution is not affected by alcohol or fatigue," said he did not think this was a provision which could be enforced by the police. FEWER FATALITIES THROUGH SKIDDING.
'THE Minister stated that he had re
ceived no reports from his officers of unwillingness on the part of highway authorities to use skid-resisting materials for road-surfacing schemes. In 1933, 290 fatal accidents were alleged .to have been caused by the skidding of
motor vehicles. The corresponding figure for 1935 was 162, showing a reduction of 44 per cent, during the two years.