Big Range of Castrol Lubrequipment I N an article in
26th March 1937
Page 33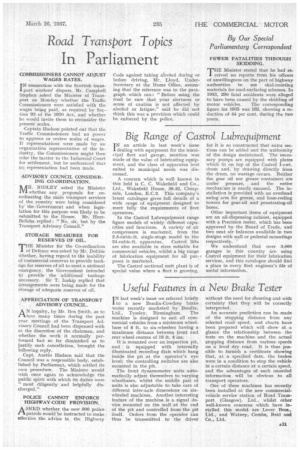 Page 33, 26th March 1937 —
Big Range of Castrol Lubrequipment I N an article in
Close
last week's issue dealing with equipment for the municipal fleet and garage, mention was made of the value of lubricating equipment, and the class of apparatus best suited to municipal needs was discussed.
A concern which is well known in this field is C. C. Wakefield and Co., Ltd., Wakefield House, 30-32, Cheapside, London, E.C.2. This company's latest catalogue gives full details of a wide range of equipment designed to meet fully the requirements of fleet operators.
In the Castrol Lubrequipment range figure models of widely different capacities and functions. A variety of air compressors is marketed, from the 2.5-cubic-ft. single-stage model to the 24-cubic-ft. apparatus. Castrol lifts are also available in sizes suitable for commercial vehicles, whilst a big range of lubrication equipment for all purposes is marketed.
The Castro] sectional unit plant is of special value where a fleet is growing, for it is so constructed that extra sections can be added and the uniformity of the design maintained. The necessary pumps are equipped with plates which fit on top of the Castrol 1-cwt, drum and, by drawing directly from the drum, no wastage occurs. Neither the gear oil nor grease containers are under pressure, and the entire mechanism is neatly encased. The installation is provided with an overhead swing arm for grease, and hose-reeling towers for gear-oil and penetrating-oil hoses.
Other important items of equipment are an oil-dispensing cabinet, equipped with a Precision meter, which has been approved by the Board of Trade, and two neat air balances available in two designs with wall or pedestal mountings respectively.
We understand that over 3,000 garages in this country are using Castrol equipment for their lubrication services, and this catalogue should find a place in every fleet engineer's file of useful information.