Personal Pars.
26th March 1937
Page 29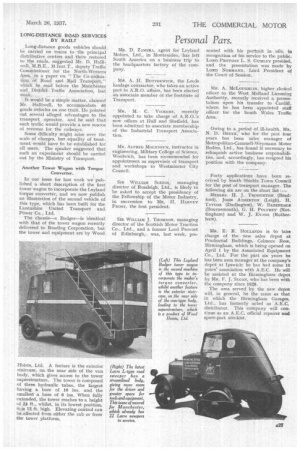 Page 29, 26th March 1937 —
Personal Pars.
Close
M. D. ZAMBRA, agent for Leyland Motors, Ltd., in Monteyideo, has left South America on a business trip to the headquarters factory of the company.
-Mit. A. H. BOTTERWICK, the Leeds haulage contractor, who takes an active part in A.R.O. affairs, has been elected an associate member of the' Instithte of Transport. .
MR. M. C. VICKERS, recently appointed to take charge of A.R.O.'s new offices at Hull and Sheffield, has been admitted to associate membership of the Industrial Transport Association, MR, ALFRED MOLYNEVX, instructor in engineering, Military College of Science, Woolwich, has been recommended for appointment as supervisOr of transport and workshops to Westminster City Council.
SIR WILLIAM SLEIGIT, managing director of Rossleigh, Ltd., is likely to be asked to accept the presidency of the Fellowship of the Motor. Industry, in succession to MR. H. HARVEY Fitosr, the first president.
Sin WILLIAM J. THOMSON, managing director of the Scottish Motor Traction Co., Ltd., and a former Lord Provost of Edinburgh, was, last week, pm sented with his portrait in oils, in recognition of his service to the public. LORD PROVOST L. S. GUMLEY presided, and the presentation was made by LORD NORMAND, Lord President of the Court of Session.
MR. A. MCLOUGHLIN, higher clerical officer to the West Midland Licensing Authority, recently received a presentation upon his transfer to Cardiff, where he has been appointed staff officer for the South Wales Traffic Area.
Owing to a period of ill-health, MR. N. D. BRUCE; who for the past four years has been sales manager of Metropolitan-Cammell-Weymann Motor Bodies, Ltd., has found it necessary to relinquish active business responsibilities, and, accordingly, has resigned his position with the company.
Forty applications have been received by South Shields Town Council for the post of transport manager. The following six are on the short list:—
MESSRS. H. J. TROUGHTON (Bradford), JOHN ATHERTON (Leigh), H. TAYLOR (Darlington), W.BAXENDALE (Bournemouth), G. H. PIII.FREV (Nottingham) and W. J. EVANS (Rotherham).
MR. E. R. HOLLANDS is to take charge of the. new sales depot at Prudential Buildings, Colmore -Row, Birmingham, which is being opened on April 1 by the Associated Equipment Co., Ltd. For the past six years he has been area manager at the company's depot at Ipswich; he has had some 15 years' association with A.E.C. He will be assisted at the Birmingham. depot by MR. F. J. SLOAN, who has been with the company since 1928.
The area served by the new depot will, in general, be the same as that in which the Birmingham Garages, Ltd., has formerly acted as A.E.C. distributor. This company will continue as an A.E.C. official repairer and spare-part stockist.
Tags
People
:
A. MCLOUGHLIN
,
H. TAYLOR
,
H. J. TROUGHTON
,
ALFRED MOLYNEVX
,
H. HARVEY
,
W. J. EVANS
,
N. D. BRUCE
,
JOHN ATHERTON (Leigh)
,
WILLIAM SLEIGIT
,
M. C. VICKERS
,
WILLIAM J. THOMSON
,
W.BAXENDALE
,
Fitosr
,
F. J. SLOAN
,
E. R. HOLLANDS