New straps failed to hold load
26th June 1997
Page 22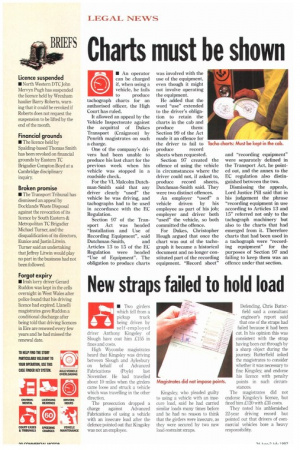 Page 22, 26th June 1997 —
New straps failed to hold load
Close
• Two girders which fell from a pickup truck being driven by self-employed driver Anthony Kingsley of Slough have cost him 4155 in fines and costs.
High Wycombe magistrates heard that Kingsley was driving between Slough and Aylesbury on behalf of Advanced Fabrications (Poyle) last November. He had travelled about 10 miles when the girders came loose and struck a vehicle which was travelling in the other direction.
The prosecution dropped a charge against Advanced Fabrications of using a vehicle with an insecure load after the defence pointed out that Kingsley was not an employee.
.4 6
Kingsley, who pleaded guilty to using a vehicle with an insecure load, said he had carried similar loads many times before and he had no reason to think that the girders were insecure, as they were secured by two new load-restraint straps. Defending, Chris Butter field said a consultant engineer's report said that one of the straps had failed because it had been cut. In his opinion this was consistent with the strap having been cut through by a sharp object during the journey. Butterfield asked the magistrates to consider whether it was necessary to fine Kingsley, and endorse his licence with penalty points in such circumstances.
The magistrates did not endorse Kingsley's licence, but fined him £120 with 435 costs.
They noted his unblemished 22-year driving record but pointed out that drivers of commercial vehicles bore a heavy responsibility.