One-ton lifting gantry
26th June 1970
Page 64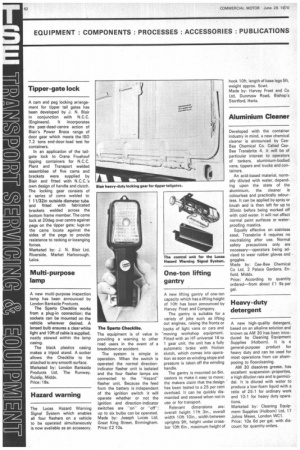 Page 64, 26th June 1970 —
One-ton lifting gantry
Close
Keywords :
A new lifting gantry of one-ton capacity which has a lifting height of 10ft has been announced by Harvey Frost and Company.
The gantry is suitable for a variety of jobs such as lifting out engines, raising the fronts or backs of light vans or cars and 'moving workshop equipment. Fitted with an HF universal 16 to 1 gear unit, the unit has a fully automatic brake with friction clutch, which comes into operation as soon as winding stops and pressure is taken off the winding handle.
The gantry is mounted on 6in. castors to make it easy to move: the makers claim that the design has been tested to a 25 per cent overload. It can be quickly dismantled and stowed when not in use or for transport.
Relevant dimensions are: overall height 11ft 3in., overall width 10ft 10in., width between uprights 9ft, height under crossbar 10ft 6in., maximum height of hook 10ft, length of base legs 5ft, weight approx. 5cwt.
Made by: Harvey Frost and Co Ltd, Dunmow Road, Bishop's Stortford, Herts.