1 Electric hoist
26th June 1970
Page 63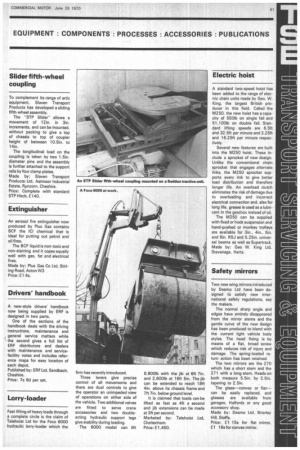 Page 63, 26th June 1970 —
1 Electric hoist
Close
A standard two-speed hoist has been added to the range of electric chain units made by Geo. W. King, the largest British producer in this field. Called the M250, the new hoist has a capacity of 550Ib on single fall and 51,100lb on double fall. Standard lifting speeds are 6.5ft and 32.5ft per minute and 3.25ft and 16.25ft per minute respectively.
Several new features are built into the M250 hoist. These include a sprocket of new design. Unlike the conventional chain sprocket that engages alternate links, the M250 sprocket supports every link to give better load distribution and therefore longer life. An overload clutch eliminates the risk of damage due to overloading and incorrect electrical connection and, also for long life, grease is used as a lubricant in the gearbox instead of oil.
The M250 can be supplied with fixed or hook suspension and hand-pushed or monkey trolleys are available for 3in., 4in., 5in. and 6in. RSJ and 5.251n. universal beams as well as Supertrack. Made by: Geo W. King Ltd, Stevenage. Herts.