Open University should stimulate existing courses
26th June 1970
Page 61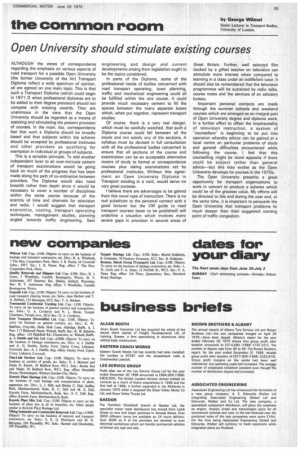 Page 61, 26th June 1970 —
Open University should stimulate existing courses
Close
ALTHOUGH the views of correspondents regarding the emphasis on various aspects of road transport for a possible Open University (the former University of the Air) Transport Diploma reflect a wide spectrum of opinion, all are agreed on one main topic. This is that such a Transport Diploma (which could begin in 1971 /2 when professional diplomas are to be added to their degree provision) should not compete with existing awards. They are unanimous in the view that the Open University should be regarded as a means of assisting and stimulating the present provision of courses. In the main, foo, correspondents feel that such a Diploma should be broadly based and that subjects within the scheme should be accepted by professional institutes and other providers as qualifying for exemption in individual or groups of subjects.
This is a sensible principle. To add another independent layer to an over-intricate pattern of transport examinations would be going back on much of the progress that has been made along the path of co-ordination between providers. The Diploma would also need breadth rather than depth since it would be necessary to cover a number of disciplines within the same course because of the scarcity of time and channels for television and radio. I would suggest that transport economics, costing, transport operating techniques, management studies, planning angled towards traffic engineering, fleet engineering and design and current developments arising from legislation ought to be the topics considered.
In parts of the Diploma, some of the professional needs of bodies concerned with road transport operating, town planning, traffic arid mechanical engineering could all be fulfilled within the one course. It could provide much necessary cement to fill the spaces between the many separate boxes which, when put together, represent transport studies.
Of course, there is a very real danger, which must be carefully watched, that such a Diploma course could fall between all the stools and not satisfy any of the sections. A syllabus must be devised in full consultation with all the professional bodies concerned to ensure that all sections of the course and examination can be an acceptable alternative means of study to formal or correspondence courses plus taking examinations set by professional institutes. Without this agreement an Open University Diploma in Transport existing in a void, would serve no very great purpose.
I believe there are advantages to be gained from this novel type of instruction. There is no real substitute to the personal contact with a good lecturer but the CM guide to road transport courses (soon to be published) will underline a situation which involves many severe gaps in provision in several areas of
Great Britain. Further, well selected film backed by a gifted teacher on television can stimulate more interest when compared to learning in a class under an indiffei-ent tutor. It should also be remembered that the television programmes will be sustained by radio talks, course notes and the services of an advisory bureau.
Important personal contacts are made through the summer schools and weekend courses which are arranged as an integral part of Open University degree and diploma work. In a further effort to offset the impersonality of television instruction, a system of -counsellors" is beginning to be put into operation whereby advice can be gained at a local centre on particular problems of study and general difficulties encountered while following the course. I feel that this counselling might be more apposite if there could be subject rather than general advice—but this may evolve as the Open University develops its courses in the 1970s.
The Open University presents a great opportunity for transport organizations to work in concert to produce a scheme which could be of the greatest value. My efforts will be directed to this end during the year and, at the same time, it is important to persuade the Open University that transport problems lie much deeper than their suggested starting point of traffic congestion.