a Because I do not exceed the 25-mile limit and only
26th June 1970
Page 59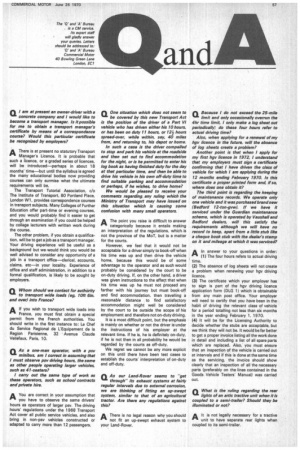 Page 59, 26th June 1970 —
a Because I do not exceed the 25-mile limit and only
Close
occasionally overrun the 4hr time limit. I only make a log sheet out periodically:. do these four hours refer to actual driving time?
Also, when applying for a renewal of my hgv licence in the future, will the absence of log sheets create a problem?
Another point is that when I apply for my first hgv licence in 1972, I understand that my employers must sign a certificate confirming that I have driven the class of vehicle for which I am applying during the 12 months ending February 1970. Is this certificate a proper printed form and, if so, where does one obtain it?
The third point is regarding the keeping of maintenance records. We operate only one vehicle and it was purchased brand new (Bedford 12-ton-gvw). If we have it serviced under the Guardian maintenance scheme, which is operated by Vauxhall and Bedford dealers, will this satisfy the requirements although we will have no record to keep, apart from a little stub like a cheque book stub with the dealer's stamp on it and mileage at which it was serviced?
AIn answer to your questions in order: (1) The four hours refers to actual driving time.
(2) The absence of log sheets will not create a problem when renewing your hgv driving licence.
(3) The certificate which your employer has to sign is part of the hgv driving licence application form (DLG 1) which is obtainable • from any main post office. Your employer will need to certify that you have been in the habit of driving the relevant class of vehicle for a period totalling not less than six months in the year ending February 1, 1970.
(4) It will be for the Licensing Authority to decide whether the stubs are acceptable, but we think they will not be. It would be far better to get a proper invoice listing all the work done in detail and including a list of all spare parts which are replaced. Also, you must ensure that an inspection of the vehicle is carried out at intervals and if this is done at the same time as the servicing, the invoice should show clearly that an inspection of all the necessary parts (preferably on the lines contained in the Goods Vehicle Testers' Manual) was carried out.