Pakex 70
26th June 1970
Page 32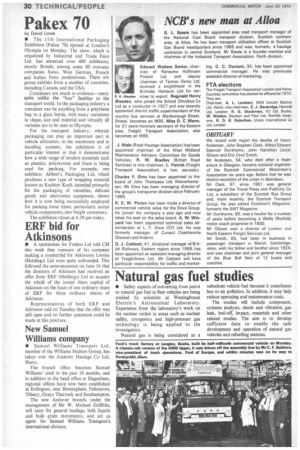 Page 32, 26th June 1970 —
Pakex 70
Close
Keywords :
Recyclable Materials
,
Materials Science
,
Manufacturing
,
Chemistry
,
Packaging
,
Thermoplastics
,
Dielectrics
,
Packaging And Labeling
,
Polystyrene
,
Plastic
,
Polyethylene
by David Lowe • The 11th International Packaging Exhibition (Pakex 70) opened at London's Olympia on Monday. The show, which is organized by Industrial and Trade Fairs Ltd, has attracted over 400 exhibitors, mostly British; among some 80 overseas companies Swiss, West German, French and Italian firms predominate. There are group exhibits from a number of countries, including Canada and the USA, Containers are much in evidence—many quite unlike the "box" familiar to the transport world. In the packaging industry a container can be anything from a polythene bag to a glass bottle, with many variations in shape, size and material and virtually all varieties are to be seen at Olympia.
For the transport industry, wherein packaging can play an important part in vehicle utilization, in the warehouse and in handling systems, the exhibition is of particular interest in that it demonstrates how a wide range of modern materials such as plastics, polystyrene and foam is being used for packing. For example, one exhibitor, Abbott's Packaging Ltd, which produces a new type of wrapping material known as Kushion Kraft, intended primarily for the packaging of valuables, delicate goods and electronics equipment, shows how it is now being successfully employed for packing loose items, particularly motor vehicle components, into freight containers.
The exhibition closes at 6.30 pm today.