NCB's new man at Alloa
26th June 1970
Page 32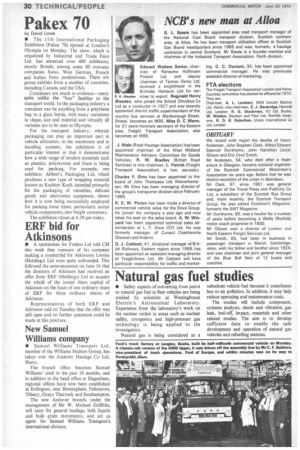 Page 32, 26th June 1970 —
NCB's new man at Alloa
Close
G. L Steele has been appointed area road transport manager of the National Coal Board transport division. Scottish northern area, at Alloa. He has been transport utilization officer at Scottish Gas Board headquarters since 1965 and was, formerly, a haulage contractor in central Scotland. Mr Steele is a founder member and chairman of the Industrial Transport Association, Forth division.
Edward Walters Senior,•chairman of Ransome Hoffmann Pollard Ltd, and deputy chairman of Tarmac Derby Ltd, received a knighthood in the Birthday Honours List for sera. H. Bleaden vices to export. Reginald Henry Bleaden, who joined the Bristol Omnibus Co Ltd as a conductor in 1927 and was recently appointed district traffic superintendent of the country bus services at Marlborough Street, Bristol. becomes an MBE. Miss D. C. Mann, for 21 years honorary secretary of the Eastern area. Freight Transport Association, also becomes an MBE.
J. Male (Road Haulage Association) has been appointed chairman of the West Midland Maintenance Advisory Committee for Goods Vehicles; R. W. Bradley (British Road Services) is vice-chairman; L. Patrick (Freight Transport Association) is hon. secretary.
Charles F. Elms has been appointed to the board of John Thompson Ltd, Wolverhampton; Mr Elms has been managing director of 'the group's transporter division since February 1969.
R. E. W. Fiction has been made a director of commercial vehicle sales for the Dove Group. He joined the company a year ago and now takes his seat on the sales board. A. W. Winyard has been appointed technical sales administrator at L. F. Dove (CV) Ltd. He was formerly manager of Cunard Coachworks (Stewart and Ardern).
D. J. Cobbett, 41, divisional manager of British Railways. Eastern region since 1968, has been appointed an assistant managing director of Freightliners Ltd. Mr Cobbett will have particular responsibility for traffic and market ing. C. C. Durrant, 34, has been appointed commercial manager. He was previously assistant director of marketing..
FTA elections
The Freight Transport Association London and Home Counties committee has elected its officers for 1970. They are:
Chairman, A. L. Lambert, GKN Lincoln Electric Ltd, Harts: vice-chairmen, E. J. Beveridge, Harrods Ltd, London; R. G. Stockman. ICI Ltd, Bucks; W. Weldon, Boulton and Paul Ltd, Norfolk: treasurer, R. D. B. Robathen, Union International Co Ltd, London.