'Carry on' Atlas Coaches
26th June 1970
Page 28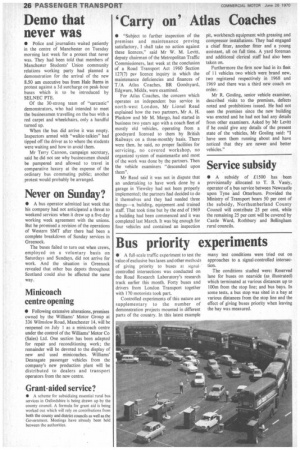 Page 28, 26th June 1970 —
'Carry on' Atlas Coaches
Close
• -Subject to further inspection of the premises and maintenance proving satisfactory, I shall take no action against these licences," said Mr W. M. Levitt, deputy chairman of the Metropolitan Traffic Commissioners, last week at the conclusion of a Road Transport Act 1960 Section 127(7) psv licence inquiry in which the maintenance deficiencies and finances of T /A Atlas Coaches, BR Goodsyard, Edgware, Middx, were examined.
For Atlas Coaches, the concern which operates an independent bus service in north-west London, Mr Lionel Read explained how the two partners, Mr A. H. Plaskow and Mr M. Margo, had started in business two years ago with a coach fleet of mostly old vehicles, operating from a goodsyard licensed to them by British Railways on a three-monthly basis. There were then, he said, no proper facilities for servicing, no covered workshop, no organized system of maintenante and most of the work was done by the partners. Then the vehicle examiners "descended upon them".
Mr Read said it was not in dispute that an undertaking to have work done by a garage in Yiewsley had not been properly implemented; the partners had decided to do it themselves and they had needed three things—a. building, equipment and trained staff. That took time but by the end of 1969 a building had been commenced and it was completed last March. It was big enough for four vehicles and contained an inspection
pit, workbench equipment with greasing and compressor installations. They had engaged a chief fitter, another fitter and a young assistant, all on full time. A yard foreman and additional clerical staff had also been taken on.
Furthermore the firm now had in its fleet of 11 vehicles two which were brand new, two registered respectively in 1968 and 1969 and there was a third new coach on order.,
Mr R. Gosling, senior vehicle examiner, described visits to the premises, defects noted and prohibitions issued. He had not seen the premises since the new building was erected and he had not had any details from other examiners. Asked by Mr Levitt if he could give any details of the present state of the vehicles, Mr Gosling said: "I have seen them running about and have noticed that they are newer and better vehicles."