Ton-up for Turkish Trading
26th June 1970
Page 25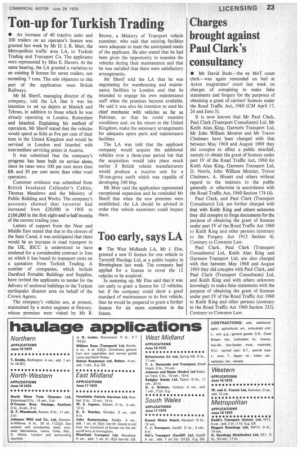 Page 25, 26th June 1970 —
Ton-up for Turkish Trading
Close
• An increase of 40 tractive units and 100 trailers on an operator's licence was granted last week by Mr D. I. R. Muir, the Metropolitan traffic area LA, to Turkish Trading and Transport Co. The applicants were represented by Miss E. Havers. At the same hearing, the LA granted a variation to an existing B licence for seven trailers, not exceeding 7 tons. The sole objectors to this part of the application were British Railways.
Mr M. Sherif, managing director of the company, told the LA that it was his intention to set up depots at Munich and Tehran, in addition to those which he was already operating in London, Rotterdam and Istanbul. Explaining his method of operation, Mr Sherif stated that the vehicles would spend as little as five per cent of their time in the United Kingdom and would be serviced in London and Istanbul with intermediate servicing points in Austria.
It was submitted that the company's progress has been built on service alone, since its rates were 100 per cent more than BR and 30 per cent more than other road operators.
Customer evidence was submitted from British Insulated Callender's Cables, Thomas Meadows and the Ministry of Public Building and Works. The company's accounts showed that turnover had increased from E20,000 in • 1968 to £106,000 in the first eight-and-a-half months of the current trading year.
Letters of support from the Near and Middle East stated that due to the closure of the Suez Canal, it was anticipated that there would be an increase in road transport to the UK. BICC is understood to have tendered for a considerable contract in Iran on which it has based its transport costs on a quotation from Turkish Trading. A number of companies, which include Dartford Portable Buildings and Supplies, have invited the applicants to tender for the delivery of sectional buildings to the Turkish earthquake disaster area on behalf of the Crown Agents.
The company's vehicles are, at present, maintained by a motor engineer at Stepney. whose premises were visited by Mr B. Brown, a Ministry of Transport vehicle examiner, who said that existing facilities were adequate to meet the anticipated needs of the applicant. He also stated that he had been given the opportunity to examine the vehicles during their maintenance and that he was satisfied that there were satisfactory arrangements.
Mr Sherif told the LA that he was negotiating for warehousing and maintenance facilities • in London and that he intended to engage his own maintenance staff when the premises became available. He said it was also his intention to send his chief mechanic with vehicles as far as Pakistan, so that he could examine conditions and, on his return to the United Kingdom, make the necessary arrangements for adequate spare parts and maintenance facilities.
The LA was told that the applicant company would acquire the additional vehicles over a three-year period but that the acquisition would take place much earlier if British vehicle manufacturers would produce a tractive unit for a 38-ton-gross outfit which was capable of developing 340 bhp.
Mr Muir said the application represented exceptional expansion and he reminded Mr Sherif that when the new premises were established, the LA should be advised in order that vehicle examiners could inspect them.