Tory tonic for hauliers?
26th June 1970
Page 20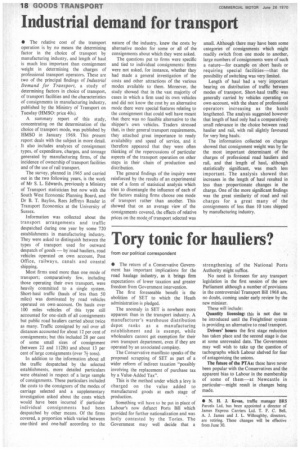 Page 20, 26th June 1970 —
Tory tonic for hauliers?
Close
from our political correspondent • The return of a Conservative Government has important implications for the road haulage industry, as it brings firm expectations of lower taxation and greater freedom from Government intervention.
The first foreseeable benefit is the abolition of SET to which the Heath administration is pledged.
The anomaly in SET is nowhere more apparent than in the transport industry. A manufacturer's warehouse distribution depot ranks as a manufacturing establishment and is exempt, while wholesalers cannot get exemption for their own transport department, even if they are operated by an associated company.
The Conservative manifesto speaks of the proposed scrapping of SET as part of a wider reform of indirect taxation "possibly involving the replacement of purchase tax by a Value-Added Tax".
This is the method under which a levy is charged on the value added to manufactured goods at each stage of production.
Something will have to be put in place of Labour's now defunct Ports Bill which provided for further nationalization and was hotly contested by the Tories. The Government may well decide that a strengthening of the National Ports Authority might suffice.
No need is foreseen for any transport legislation in the first session of the new Parliament although a number of provisions in the controversial Transport Bill 1968 are, no doubt, coming under early review by the new minister.
These will include: Quantity licensing: this is not due to be introduced until the Freightliner system is providing an alternative to road transport.
Drivers' hours: the first stage reduction has taken place and the second stage is due at some unrevealed date. The Government may well wish to take up the question of tachographs which Labour shelved for fear of antagonizing the unions.
The future of the PTAs: these have never been popular with the Conservatives and the apparent bias to Labour in the membership of some of them—at Newcastle in particular--might result in changes being made.