Conservative outlook
26th June 1970
Page 17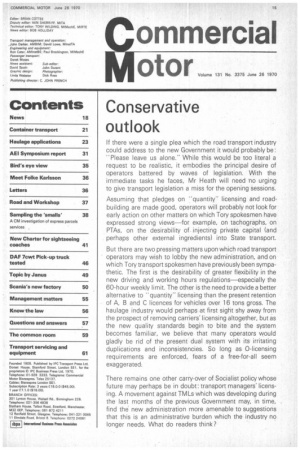 Page 17, 26th June 1970 —
Conservative outlook
Close
If there were a single plea which the road transport industry could address to the new Government it would probably be: Please leave us alone.While this would be too literal a request to be realistic, it embodies the principal desire of operators battered by waves of legislation. With the immediate tasks he faces, Mr Heath will heed no urging to give transport legislation a miss for the opening sessions.
Assuming that pledges on -quantitylicensing and roadbuilding are made good, operators will probably not look for early action on other matters on which Tory spokesmen have expressed strong views for example, on tachographs, on PTAs, on the desirability of. injecting private capital (and perhaps other external ingredients) into State transport.
But there are two pressing matters upon which road transport operators may wish to lobby the new administration, and on which Tory transport spokesmen have previously been sympathetic. The first is the desirability of greater flexibility in the new driving and working hours regulations especially the 60-hour weekly limit. The other is the need to provide a better alternative to -quantitylicensing than the present retention of A, B and C licences for vehicles over 16 tons gross. The haulage industry would perhaps at first sight shy away from the prospect of removing carriers" licensing altogether, but as the new quality standards begin to bite and the system becomes familiar, we believe that many operators would gladly be rid of the present dual system with its irritating duplications and inconsistencies. So long as 0-licensing requirements are enforced, fears of a free-for-all seem exaggerated.
There remains one other carry-over of Socialist policy whose future may perhaps be in doubt: transport managers" licensing. A movement against TM Ls which was developing during the last months of the previous Government may, in time, find the new administration more amenable to suggestions that this is an administrative burden which the industry no longer needs. What do readers think ?