WHERE BRITISH LORRIES ARE MAKING GOOD.
26th June 1923
Page 9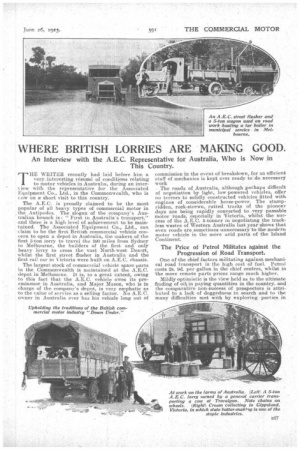 Page 10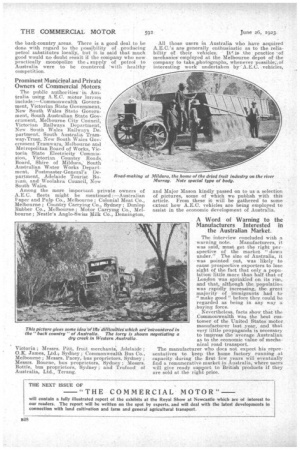 Page 9, 26th June 1923 —
WHERE BRITISH LORRIES ARE MAKING GOOD.
Close
An Interview with the A.E.C. Representative for Australia, Who is Now in This Country.
THE WRITER recently had laid before him a very interesting resuth6 of conditions relating to motor vehicles in Australia, during an interview with the representative for the Associated Equipment Go., Ltd., in the Commonwealth, who is now oü a short visit to this country.
The A.E.C. is proudly claimed to be the most popular of all heavy types of commercial motor in the Antipodes. The slogan of the company's Australian branch is : " First in Australia's transport," and there is a high level of achievement to be maintained. The Associated Equipment Co., Ltd., can claim to be the first British commercial vehicle concern to open a depot in Australia, the makers of the first 5-ton lorry to travel the No miles from Sydney to Melbourne, the builders of the first and only heavy lorry to cross the vast North-west Desert, whilst the first street flusher in Australia and the first rail car in Victoria were built on A.E.C. chassis.
The largest stock of cornmei•cial vehicle spare parts in the Commonwealth is maintained at the .A.E.C. depot in Melbourne, It is, to a great extent, owing to this fact that the A.E.C. vehicle owes its preeminence in Australia, and Major Mason, who is in charge of the company's depot, is very emphatic as to the value of service as a selling factor. No A.E.C. Owner in Australia ever has his vehicle long out of
commission in the event of breakdown, for an efficient staff of mechanics is kept ever ready to do necessary work
The roads of Australia, although perhaps difficult of negotiation by light, low-powered vehicles, oiler no terrors to solidly constructed vehicles fitted with engines of considerable hoise,-power. The stumpridden, rock-strewn, rutted tracks of the pioneer days are being rapidly converted to very passable motor roads, o'specially in 'Victoria, whilst the -success of the A.E.C. 5-tonner in negotiating the trackless wastes of Western Australia last year shows that even roads are sometimes unnecessary to the modern motor vehicle in the more arid parts of the Island Continent.
The Price of Petrol Militates against the Progression of .Road Transport.
One of the chief factors militating against mechanical road transport is the high cost of fuel. Petrol costs 2s. 9d. per gallon in the chief centres, whilst in the more remote parts prices range much higher.
Mildly optimistic is the view held as to the ultimate finding of oil) in paying quantities in the country. and the comparative non-success of prospectors is attri• hilted to a lack of doggedness in search and to the many difficulties met with by exploring parties in
the back-country areas. There is a good deal. tube done with regard to the possibility of producing petrol substitutes locally, but it is said that much good would no doubt result if the company who now practically monopolize the ., supply of petrolto Australia were to be countered 'with healthy competition.
Prominent Municinaland Private Owners of Commercial Motors
The public authorities 'in Australia using A.E.C. mator lorries include :—Commonwealth Government, Victorian State Government, New South Wales State Government, South Australian State Government, Melbourne City Council, Victorian Railways Department, New. South Wales Railways Department; South Australia Tramway. Trust, New South Wales Government Tramways, Melbourne and Metropolitan Board of Works, Victoria 'State Electricity Commission, Victoriar, Country Roads, Board, Shire of Mildura, Smith Australian Water Works Department, Postmaster-General's Department, Adelaide Tourist Bureati, and. Woolahra, Council, Now South Wales.
Among the more important private owners of A.E.C. fleets might be mentioned :—Australian
Paper and Pulp Co,, Melbourne ; Colonial Meat Co., Melbourne ; Country Carrying Co., Sydney • Dunlop Rubber Co., Melbourne Motor Carrying Co., Melbourne ; Nestle's Anglo-bwiss Milk Co., Dennington,
Victoria ; Messrs. Pitt, fruit merchants, Adelaide ; O.K. James, Ltd., Sydney ; Commonwealth Bus Co., Melbourne ; Messrs. Pacey, bus proprietors, Sydney ; Messrs. Bourne, bus proprietors, Sydney ; Messrs. Bottle, bus proprietors, Sydney ; and Trufood of Australia, Ltd., Terang.
All those users in Australia who have acquired A.E.C.'s are generally enthusiastic as to the reliability of their vehicles. • It' is the practice of mechanics employed at the Melbourne depot of the company to take,photographs, whenever possible;: of interesting work undertaken by.-A.E.C. vehicles,
and Major Mason kindly passed on to us a selection of pictures, some of which we publish with this article. From these it will be gathered to some extent how A.E.C. vehicles are being employed to assist in the economic development of Australia.
A Word ofWarning to the Manufacturers Interested in the Australian Market.
The interview concluded with a warning note. Manufacturers, it was said, must get the right per of the market "dawn under." The size of Australia, it was pointed out, was likely to cause prospective exporters to lose sight of the fact that only a _population little mare than half that of London was sprinkled on its rim, and that, although the population was rapidly increasing, the great majoritY of immigrants had to -" make good" before they, could be regarded as being in any way a :buying force.
. Nevertheless, facts show that 'the .Commonwealth was the best customer of the United States motor manufacturer last year, and that very little propaganda is necessary to impress the average Australian as to the economic value of mechanical road transport. The manufacturer who does not expect his representatives to keep the home factory running at capacity during the first few years will eventually find a remunerative market in Australia, where users will give ready support to British products if they are sold at the right price. •