\ LONDON BUS OWNERS' NEW ASSOCIATION.
26th June 1923
Page 18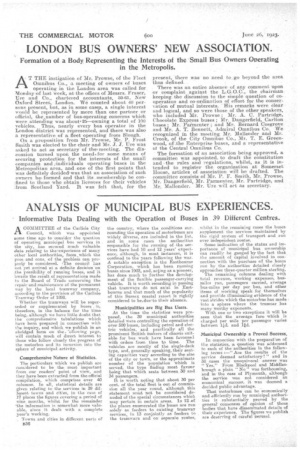 Page 18, 26th June 1923 —
\ LONDON BUS OWNERS' NEW ASSOCIATION.
Close
Formation of a Body Representing the Interests of the Small Bus Owners Operating in the Metropolis.
A• T THE instigation of Mr. Prowse, of the Fleet Omnibus Co., a meeting of owners of buses operating in the London area was called for Monday .of last week, at. the offices of Messrs. Fraser, tire and Co., chartered accountants, 59-61, New Oxford Street, London. We counted about 40 persons present, but, as in some cases, a single interest would be represented by more than one partner or official, the,number of bus-operating concerns which were attending was about425—owning a total of 100 vehicles. Thus, nearly every bus operator in the London district was represented, and there was also a representative of a fleet operating from Slough.
On a proposition from Mr. Prowse, Mr. P. Frost Smith was elected to the chair and Mr. J. J. Ure was asked to act as secretary of thelmecting. The discussion turned upon the need.for some means of securing protection for the interests of the small companies and individuals operating buses in the Metropolitan area, and one of the 'first points that was definitely decided was that an association of such owners be-formed and that its .membership be con:fined to those who .obtain licences for their vehicles from Scotland Yard. It was felt that, for the
present, 'there was no need to.go beyond the area thus defined.
There was an entire absene of any comment upon or complaint against the L.G.0.0., the chairman keeping the discussion to the simple question of cooperation and co-ordination of effort for the conservation of mutual interests. His remarks were clear and logical, and so were those of the other speakers, who included Mr. .Prowse; Mr. A. C. Partridge, Chocolate Express buses ; Mr. Dangerfield, Canton buses Mr.' Paimenter ; and Mr. Bernard Cosgrove and Mr. A. T. Bennett, Admiral Omnibus Co. We recognized in the meeting Mr. Mallender and Mr. Crook, of the City Omnibus Co., Mr. T. E. Greenwood, ,of .the Enterprise buses, and a• representative of the Central Omnibus Co.
The formation of an association being approved, a committee was appointed, to draft the constitution and -the rules and regulations, whilst, as it is intended to register the organization at Somerset House, articles of association will be drafted. The committee consists of Mr. P. F. Smith, Mr. Prowse, Mr. Da,ngerfield, Mr. Parmenter, Mr. Partridge, and Mr. Mallander. Mr. Ure will act as secretary.
Tags
People
:
A. T. Bennett
,
Crook
,
Mallander
,
Da
,
T. E. Greenwood
,
Bernard Cosgrove
,
J. J. Ure
,
Parmenter
,
Mallender
,
A. C. Partridge
,
P. Frost Smith
,
Prowse
,
P. F. Smith