THE CARPETING OF MODERN ROADS.
26th June 1923
Page 11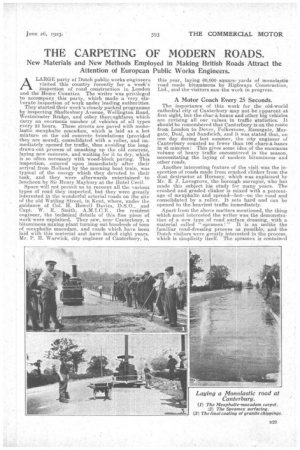 Page 12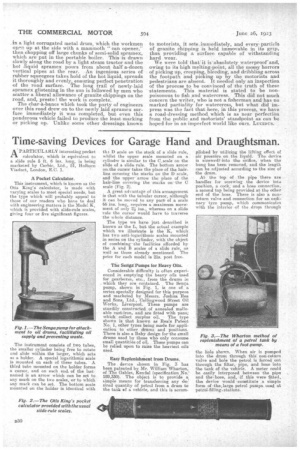 Page 11, 26th June 1923 —
THE CARPETING OF MODERN ROADS.
Close
New Materials and New Methods Employed in Making British Roads Attract the Attention of European Public Works Engineers.
ALARGE party of Dutch public works engineers visited this country recently for a, week's inspection of road construction in London and the Home Counties, The writer was privileged to accompany this party, which made a very elaborate inspection of work under leading authorities.
They started their week's closely packed programme by inspecting Shaftesbury Avenue, Wellington Road, Westminster Bridge, and other thoreughfares which carry an enormous number of vehicles of all types every 24 hours. These streets are paved with monolastic mexphalte macadam, which is laid as a hot mixture on the old concrete foundations (provided they are sound), consolidated with a roller, and immediately opened for traffic, thus avoiding the longdrawn-out process of smashing up the old concrete, laying new concrete, and waiting for it to dry, which is so often necessary with wood-block paving. This inspection, entered upon immediately after their arrival from Holland by the morning boat train, was typical of the energy which they devoted to their task, and they were afterwards entertained to luncheon by Sir Henry Maybury at the Hotel Cecil.
Space will not permit us to recount all the various types of road they inspected, but they were greatly interested in the wonderful arterial roads on the site of the old Watling Street, in Kent, where, under the guidance of Col. H. Howell Davies, D.S.O., and Capt. W. E. Smith, A.M.I.C.E , the resident engineer, the technical details of this fine piece of work were explained. They saw, near Canterbury, a bituminous mixing plant turning out hundreds of tons of mexphalte macadam, and roads which have been laid with this material and have lasted eight years. Mr. P. H. Warwick, city engineer of Canterbury, is, this year, laying 60,000 square, yards of monolastic road made bituminous by Highways Construction, Ltd., and the -visitors saw the work in progress.
A Motor Coach Every 25 Seconds.
The importance of this work for the old-world cathedral city of Canterbury may not be apparent at first sight? but the char-it-banes and other big vehicles are revising all our values in traffic statistics. it should be remembered that Canterbury is on the route from London to Dover, Folkestone, Ramsgate, Margate; Deal, and Sandwich, and it was stated that, on one day during last summer, the city engineer of Canterbury counted no fewer than 106 •chars-a,bancs in 45 minutes ! This gives some idea of the enormous volume of heavy traffic encountered in the season, necessitating the laying of modern bituminous and other roads.
Another interesting feature of the visit was the inspection of roads made from crushed clinker from the dust destructor at Horn sey, which was explained by Mr. E. J. Lovegrove, the borough surveyor, who has made this subject his study for many years. The crushed and graded clinker is mixed with a percentage of mexphalte and spread—hot—on the road and consolidated by a roller. It sets hard and can be opened to the heaviest traffic immediately.
Apart from the above matters mentioned, the thing which most interested the writer was the demonstration of a new type of road surface dressing, with a material called " sprarnex ! " It is as unlike the familiar road-dressing process as possible, and the Dutch visitors were greatly interested in the process, which is simplicity itself. The sprarnex is contained in a light corrugated metal drum, which the workmen own up at the side with a mammoth "can opener," then chopping off large chunks of semi-solid spramex, which are put in the portable boiler. This is drawn slowly along the road by a light steam tractor and the hot -liquid spramex pours from about half a-dozen vertical pipes at the rear. An ingenious series of rubber squeegees takes hold of the hot liquid, spreads it thoroughly and evenly, ensuring perfect penetration of the road surface. Thelong trail of newly-laid spramex glistening in the sun is followed by men who scatter a liberal allowance of granite clippings on the road, and, presto ! the work is complete.
The char-h-bancs which took the party of engineers over this road drew on to the newly laid spramex surface immediately it was completed, but even this ponderous vehicle failed to produce the least marking or picking up. Unlike some other dressings known to motorists, it sets:immediately, and every-particle of granite chipping is held Unmovable in its grip, thus providing a surface capable of withstanding hard wear.
We were told. that :it is'absolutely waterproof 'and, owing to its high melting-point, all the messy horrors of picking up, creeping, bleeding, and dribbling across the footpath and picking up by the motorists and pedestrians are absent. It needed only an inspection of the process to be convinced of the truth of these statements. This material is stated to be nonpoisonous to fish and watercress. This did not much concern the writer, who is not a fisherman and has no marked partiality for watercress, but what did im
press was the fact that here in this process, we have ; a road-dressing method which is as near perfection from the public and motorists' standpoint as can be hoped for in an imperfect world like ours. Lucinus.