AG100 debuts at Geneva
26th January 1989
Page 15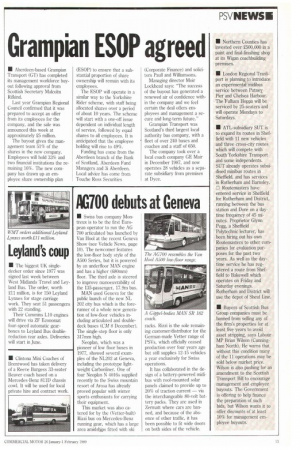 Page 15, 26th January 1989 —
AG100 debuts at Geneva
Close
Keywords :
Buses
,
Articulated Vehicles
,
Man Ag
,
Neoplan
,
Low-floor Bus
,
Articulated Bus
,
Van Hool
,
Transit Bus
,
Neoplan N4009
,
Bi-articulated Bus
,
Hospitality / Recreation
• Swiss bus company Montreux is to be the first European operator to run the AG 700 articulated bus launched by Van Hool at the recent Geneva Show (see Vehicle News, page 10). The newcomer features the low-floor body style of the A500 Series, hut it is powered by an underfloor MAN engine and has a higher (680mm) floor. The third axle is steered to improve manoeuvrability of the 135-passenger, 17.9m bus.
MAN used Geneva for the public launch of the new NL 202 city bus which is the forerunner of a whole new generation of low-floor vehicles including articulated and doubledeck buses (CM 8 December). The single-step floor is only 317mm high.
Neoplan, which was a pioneer of low floor buses in 1977, showed several examples of the NI.202 at Geneva, including the prototype lightweight Carbonliner. One of four Neoplan N 4016s supplied recently to the Swiss mountain resort of Arosa has already proved popular with winter sports enthusiasts for carrying their equipment.
This market was also catered for by the (Vetter-built) Rizzi bus on Mercedes-Benz running gear, which has a large area amidships fitted with ski
A Goppel-bodies MAN SR 182 coach.
racks. Rizzi is the sole remaining customeridistributor for the German-made Vetter range of PSVs, which officially ceased production over four years ago but still supplies 12-15 vehicles a year exclusively for Swiss operations.
It has collaborated in the design of a battery-powered midibus with roof-mounted solar panels claimed to provide up to 20% of traction current — via the interchangeable 80-volt battery packs. They are used in Zermatt where cars are banned, and because of the absence of other traffic, it has been possible to fit wide doors on both sides of the vehicle.