"Getting at the Facts"
26th January 1951
Page 53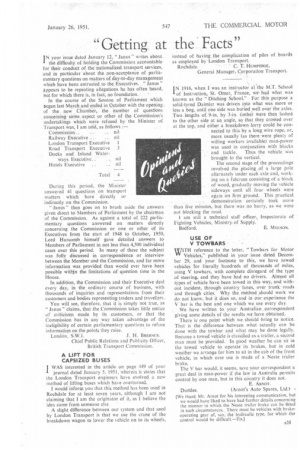 Page 53, 26th January 1951 —
"Getting at the Facts"
Close
Keywords :
IN your issue dated January 12, " Janus " writes about A the difficulty of holding the Commission accountable for their conduct of the nationalized transport services, and in particular about the non-acceptance of parliamentary questions on matters of day-to-day management which have been entrusted to the Executives. " Janus " appears to be repeating allegations he has often heard, hut for which there is, in fact, no foundation.'
In the course of the Session of Parliament which began last March.and.en.ded in October with the opening . of the, new Chamber, the number of questions concerning some aspect: or other of the Commission's undertakings which were refused by the Minister of Transport was, I am told, as follows
Commission.. nil Railway Executive .. nil London Transport Executive 1 Road Transport Executive 3 Docks and Inland Water
Ways. Executive.. .., nil
Hotels Executive .. .. nil During this period, the Minister answered 41 questions on transport matters which bore directly or indirectly on the Commission. " Janus" then goes on to brush aside the answers given direct to Members of Parliament by the chairman of the Commission. As against a total of 222 parliamentary questions answered on matters directly concerning the Commission or one or other of its Executives from the start of 1948 to October, 1950, Lord Hurcomb himself gave detailed answers to Members of Parliament in not less than 4,500 individual cases over this period. in many of these the subject was fully discussed in correspondence or interview between the Member and the Commission, and far more information was provided than would ever have been possible witltn the limitations of question time in the House.
In addition, the Commission and their Executive deal every day, in the ordinary course of business, with thousands of inquiries and representations from their customers and bodies representing traders and travellers.
You will see, therefore, that it is simply not true, as "Janus" claims, that the Commission takes little notice of criticisms made by its customers, or that the Commission has in any way taken advantage of the ineligibility of certain parliamentary questions to refuse information on the points they raise.
London, S.W.I. J. H. BREBNER. Chief Public Relations and Publ!city Officer, British Transport Commission.
A LIFT FOR CAPSIZED BUSES I WAS interested in the article on page 449 of your I journal dated January 5, 1951, wherein it states that the London Transport engineers have evolved a new method of lifting buses which have overturned.
I would inforin you that this method has been used in Rochdale for at least seven years, although I am not claiming that I am the originator of it, as I believe the idea came from someone else
A slight difference between our system and that used by London Transport is that we use the crane of the breakdown wagon to lower the 1. chicle on to its wheels,
instead of having the complication of piles of boards as employed by London Transport.
Rochdale. ' C. T. FIUMPIDGE, General Manager, Corporation Transport.
• :. IN 1916, when I was an instructor al., the M.T. School
I of Instruction, St. Omer, France, we had what was known as the " Ditching School." For this purpose a solid-tyred Daimler was driven into what Was more or less a bog, untikine side was buried well over the axles. Two lengths of 9-in.. by 3-in. timber Were then lashed to the other side at an angle, so that they crossed over at the top, and either a breakdown lorry could be connected to this by a long wire rope, or, more usually (as there were plenty of willing workers available) man-power was used in conjunction with blocks and tackle. Thus the vehicle was brought to the vertical.
The second stage of the proceedings involved the .placing of a large pole alternately 'under each axle and, working on a fulcrum consisting of a block of wood, gradually moving the vehicle sideways until all four wheels were again On firm ground. This practical demonstration certainly took more than live minutes, but there was no harry, as we were not blocking the road.
I am still a technical staff officer, Inspectorate of Fighting Vehicles, MinistrY, of Supply.'
Bedford. E. MELSON. USE OF V TOWBARS
WITH reference to the letter, "Towbars for Motor VV. Vehicles," published in your issue dated Decem
ber 29, and your footnote to this, we have towed vehicles for literally hundreds of thousands of miles, using V towbars, with complete disregard of the type of steering, and they have had no drivers. Almost all types of vehicle have been towed in this way, and without incident, through country' lanes, over trunk' roads and through cities. Why the method should work we do not know, but it dims so, and in our experience the V bar is the best and one which we use every day.
We have written to your Australian correspondent giving some details of the results we have obtained.: There is one point which we should bring to notice.
That is the difference between what actually can be done with the towbar and what may be done legally. Because a towed vehicle is classified as a trailer, a second man must be provided. In good weather he can sit in the towed vehicle to operate its brakes, but in cold weather we arrange for him to sit in the cab of the front vehicle, in which case use is made of a Neate trailer brake.
The V bar would, it seems, save your correspondent a great deal in man-power if the law in Australia permits control by one man, but in this country it does not.
E. ARNOT.
Durtdee. (Arnot's Auto Spares, Ltd.) • [We thank Mr. Arnot for his interesting communication, but
we would have liked to have had further details concerning the manner in which the Neate trailer brake can be fitted in such circumstances.. There must be vehicles with brakeoperating gear of, say, the hydraulic type, for which the control would be difficult,—FD.]