Road Transport in
26th January 1951
Page 49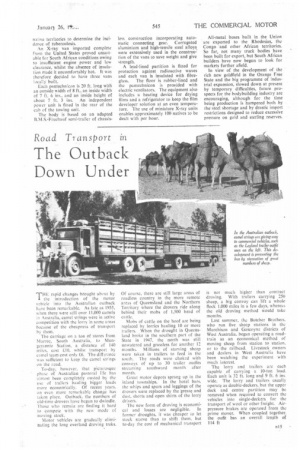 Page 49, 26th January 1951 —
Road Transport in
Close
The Outback Down Under
THE rapid changes brought about by the introduction of the motor vehicle into the Australian outback have been remarkable. As late as 1935, when there were still over 11,000 camels in Australia, camel strings were in active competition with the lorry in some areas because of the cheapness of transport by them.
The carriage on a ton of stores From Marree, South Australia, to Mongerannie Station, a distance of 140 miles. cost 110. whilst transport by camel team cost only £6. The difference %vas sufficient to keep the camel strrigs on the road.
To-day, however, that picturesque phase of Australian pastoral life has almost been completely ousted by the use of trailers hauling bigger loads more economically. Of recent years. an even more remarkable change has taken place. Outback. the numbers of old-time drovers have begun to dwindle. Those who remain are -finding it hard to compete with the nt:w mode of moving stock.
Motor vehicles are gradually eliminating the long overland droving treks. Of course, there are still large areas of roadless country in the more remote areas of Queensland and the Northern Territory where the drovers ride along behind their mobs of 1,500 head of cattle.
Mobs of cattle on the hoof are being replaced by lorries hauling 10 or more trailers. When the drought in Queensland broke in the southern part of the State in 1947. the north was still unwatered and grassless for another 12 months. Millions of starving sheep were taken in trailers to feed in the south. The roads were choked with convoys of up to 30 trailer outfits streaming southward month after month, Great motor depots sprang up in the inland townships. In the hotel bars. the whips and spurs and leggings of the drovers were replaced by the grease and dust, shorts and open shirts of the lorry drivers.
The new form of droving is economical and losses are negligible. In former droughts, it was cheaper to let stock starve than to shift them. but to-day the cost of mechanical transport is not much higher than contract droving. With trailers carrying 250 sheep, a big convoy can lift a whole flock 1,000 miles in a few days, whereas the old droving method would take months.
Last summer, the Butcher Brothers. who run five sheep stations in the Murchison and Gascoyne districts of West Australia, began operating a roadtrain as an economical method of moving sheep from station to station, or to the railhead. Livestock owners and dealers in West Australia have been watching the experiment with much interest.
The lorry and trailers are each capable of carrying a 10-ton load. Each unit is 32 ft. long and 9 ft. 6 ins. wide. The lorry and trailers usually operate as double-deckers. but the upper deck and centre partition may be removed when required to convert the vehicles into single-deckers for the transport of wool or other freight. Airpressure brakes are operated from the prime mover. When coupled together. the oufit has an overall length of 114 ft