Fighting the Enemy--Rust A NNUAL losses attributable to the ravages of
26th January 1951
Page 45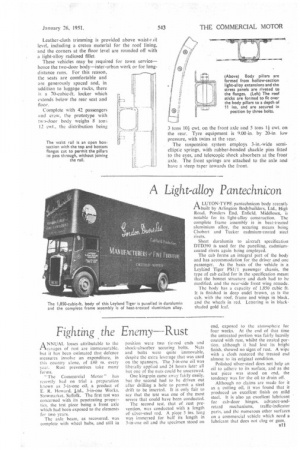 Page 45, 26th January 1951 —
Fighting the Enemy--Rust A NNUAL losses attributable to the ravages of
Close
rust are immeasurable. but it has been estimated that defence measures involve an expenditure, in this country alone, of £40 m. every year. Rust preventives take many forms.
"The Commercial Motor" has recently had on trial a preparation known as 3-in-one oil, a product of E. R. Howard, Pd., 3-in-one Works, Stowmarket, Suffolk. The first test was concerned with its penetrating properties, the test piece being a front axle which had been exposed to the elements for two years.
The axle beam, as recovered, was complete with wheel hubs, and still in
position were two tie-rod ends and shock-absorber securing bolts. Nuts and bolts were quite immovable, despite the extra leverage that was used on the spanners. The 3-in-one oil was liberally applied and 24 hours later all but one of the nuts could he unscrewed.
One king-pin came away fairly easily, but the second had to he driven out after drilling a hole to permit a steel drift to be inserted. It is only fair to say that the teM was one of the most severe that could have been conducted.
The second test. that of rust prevention, was conducted with a length of silver-steel rod. A piece 3 ins, long was immersed for half its length in 3-in-one oil and the specimen stood on end, exposed to the atmosphere for four weeks. At the end of that time the untreated portion was fairly heavily coated with rust, whilst the coated portion, although it had lost its bright finish, showed no signs of rust. A wipe with a cloth restored the treated end almost to its original condition.
Polished silver-steel does not help an oil to adhere to its surface, and as the test piece was stood on end, the tendency was for the oil to drain off.
Although no claims are made for it as a cutting oil, it was found that it produced an excellent finish on mild steel. It is also an excellent lubricant for cab-door hinges. advance-andretard mechanisms, traffic-indicator parts, and the numerous other surfaces on a commercial vehicle which need a lubricant that does not clog or gum.