A Light-alloy Pantechnicon A LUTON-TYPE pantechnicon body recenlly i — tbuilt by
26th January 1951
Page 45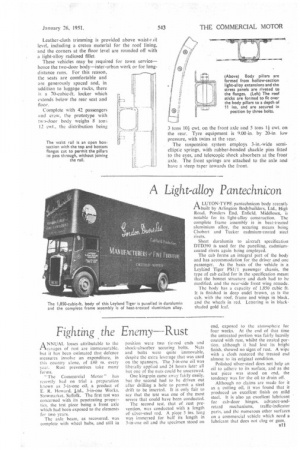 Page 45, 26th January 1951 —
A Light-alloy Pantechnicon A LUTON-TYPE pantechnicon body recenlly i — tbuilt by
Close
Arlington Bodybuilders, Ltd., High Road, Ponders End, Enfield, Middlesex, is notable fru its light-alloy construction. The complete frame assembly is in heat-treated aluminium alloy, the securing means being Chobert and Tucker cadmium-coated sled rivets.
Sheet duralumin to aircraft specification DTD390 is used for the panelling, cadmiumcoated rivets again being employed.
The cab forms an integral part of the body and has accommodation for the driver and one passenger. As the basis of the vehicle is a Leyland Tiger PSI/I passenger chassis, the type of cab called for in the specification meant that the bonnet structure and dash had to be modified, and the near-side front wing remade.
The body has a capacity of 1,850 cubic ft. It is finished in deep endel brown, as is the cab, with the roof, frame and wings in black. and the wheels in red. Lettering is in blackshaded gold leaf.