TAX I!
26th January 1951
Page 39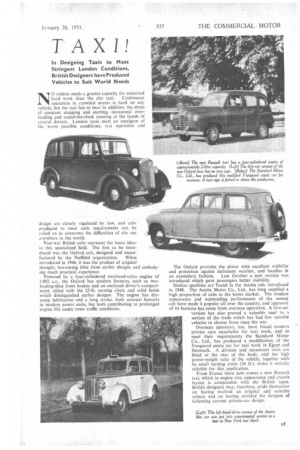 Page 39, 26th January 1951 —
TAX I!
Close
N0 vehicle needs a greater capacity for sustained
hard work than the city taxi. Continuous °Oration in crowded streets is hard on any vehicle, but the taxi has to bear in addition, the stress of constant stopping and starting, occasional overloading and round-the-clock running at the hands of several drivers. London taxis meet an amalgam of the worst possible conditions: taxi operation and design are closely regulated by law, and cabs produced to meet such requirements can be relied on to overcome the difficulties of city use anywhere in the world.
Post-war British cabs represent the latest ideas in this specialized field. The first to be introduced was the Oxford cab, designed and manu factured by the Nuffield organization. When introduced in 1946, it was the product of original thought, borrowing little from earlier designs and embodying much practical experience.
Powered by a four-cylindered overhead-valve engine of 1,802 c.c., the Oxford has modern features, such as twoleading-shoe front brakes and an enclosed driver's compartment, allied with the 25-ft. turning circle and solid finish which distinguished earlier designs. The engine has drysump lubrication and a long stroke, both unusual features in modern power units, but both contributing to prolonged engine life under town traffic conditions. The Oxford provides the driver with excellent visibility and protection against inclement weather, and handles in an exemplary fashion. Last October a new version was introduced which gave passengers better visibility.
Similar qualities are Found in the Austin cab, introduced in 1948. The Austin Motor Co., Ltd., has long supplied a high proportion of cabs to the home market. The modern appearance and outstanding performance of the newest cab have made it popular all over the country, and approval of its features has come from overseas operators. A hire-car version has also proved a valuable asset to a section of the trade which has had few suitable vehicles to choose from since the war.
Overseas operators, too, have found modern private cars unsuitable for taxi work, and to meet their requirements the Standard Motor Co., Ltd., has produced a modification of the Vanguard estate car for taxi work in Egypt and Denmark. A division and occasional seats are fitted at the rear of the body_ and the high power-weight ratio of the vehicle, together with its small turning circle (34 ft.), make it entirely suitable for this application.
From France there now comes a new Renault taxi, which in engine size, appearance and chassis layout is comparable with the British types. British designers ritay, therefore, pride themselves on having evolved an original and suitable vehicle and on having avoided the dangers of following current private-car design.