EAST RIDING
26th January 1951
Page 36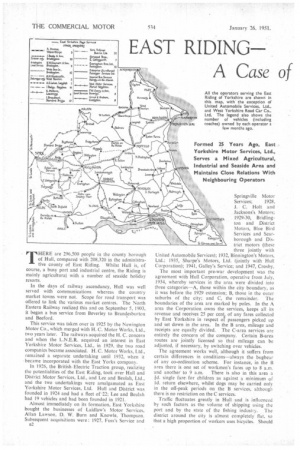 Page 37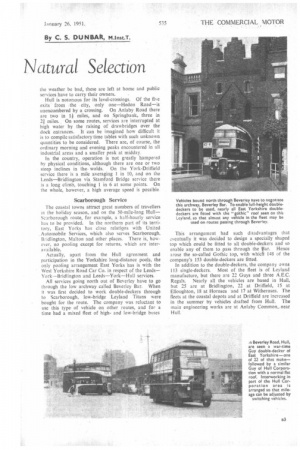 Page 38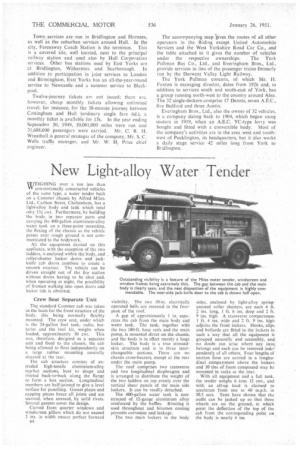 Page 36, 26th January 1951 —
EAST RIDING
Close
A Case of Natural Selection THERE are 296.500 people in the county borough of Hull, compared with 208,320 in the administrative county of East Riding. Whilst Hull is, of course, a busy port and industrial centre, the Riding is mainly agricultural with a number of seaside holiday resorts.
In the days of railway ascendancy, Hull was well served with communications whereas the country market towns were not. Scope for road transport was offered to link the various market centres. The North Eastern Railway realized this and on September 5, 1903, it began a bus service from Beverley to Brandesburton and Beeford.
This service was taken over in l925 by, the Newington Motor Co., which merged with H. C. Motor Works, Ltd., two years later. The railways acquired the H. C. concern and when the L.N.E.R. acquired an interest in East Yorkshire Motor Services, Ltd., in 1929, the two road companies became associated. H. C. Motor Works. Ltd., remained a separate undertaking until 1932, when it
• became incorporated with the East Yorks company.
In 1926, the British.Electric Traction group, realizing the potentialities of the East R:ding, took over Hull and District Motor Services, Ltd., and Lee and Beulah, Ltd.. and the two undertakings were amalgamated as East Yorkshire Motor Services, Ltd. Hull and District was founded in 1924 and had a fleet of 22; Lee and Beulah had 19 vehicles and had been founded in 1921.
Almost immediately on its formation. East Yorkshire bought the businesses of Laidlaw's Motor Services, Allan Lawson, D. W. Burn and Knowle, Thompson. Subsequent acquisitions were : 1927, Fuss's Service and a2 Springville Motor Scrvices; 1928, J. C. Holt and Jacksons's Motors; 1929-30, Bridlington and District Motors, Blue Bird Services and Scarborough and District motors (these three jointly with United Automobile Services); 1932, Binnington's Motors, Ltd.; 1935, Sharpe's Motors, Ltd. (jointly with Hull Corporation); 1941, Galley's Service; and 1947, Crosby.
The most important pre-war development was the agreement with Hull Corporation, operative from July, 1934, whereby services in the area were divided into three categories—A, those within the city boundary, as it was before the 1929 extension: B, those in the outer suburbs of the city; and C, the remainder. The boundaries of the area are marked by poles. In the A area the Corporation owns the services, keeps all its revenue and receives 25 per cent. of any fares collected by East Yorkshire in respect or passengers picked up and set down in the area. In the B area, mileage and receipts are equally divided. The C-area services are entirely the concern of the company. Certain B-area routes are jointly licensed so that mileage can be adjusted, if necessary, by switching over vehicles.
The agreement works well, although it suffers from certain differences in conditions—always the bugbear of any co-ordination scheme. For instance, in the B area there is one set of workmen's fares up to 8 a.m.
and another to 9 a.m. There is also in this area a id. single fare for children as against a minimum of Id. return elsewhere, whilst dogs may be carried only in the off-peak periods on the B services, althotiali there is no restriction on the C services.
Traffic fluctuates greatly in Hull and is influenced by such factors as the volume of shipping using the port and by the state of the fishing industry. The district around the city is almost completely flat, so that a high proportion of workers uses bicycles. Should the weather be bad, these are left at home and public services have to carry their owners.
Hull is notorious for its level-crossings. Of the five exits from the city, only one—Hedon Road—is unencumbered by a crossing. On Anlaby Road there are two in 1 miles, and on Springbank, three in 2i miles. On some routes, services are interrupted at high water by the raising of drawbridges over the dock entrances. It can be imagined how difficult it is to compile satisfactory time tables with such unknown quantities to be considered. There are, of course, the ordinary morning and evening peaks encountered in all industrial areas and a smaller peak at midday.
In the country, operation is not greatly hampered by physical conditions, although there are one or two steep inclines in thewolds. On the York-Driffield service there is a mile averaging 1 in 10, and on the Leeds—Bridlington via Stamford Bridge service there is a long climb, touching 1 in 6 at some points. On the whole, however, a high average speed is possible.
Scarborough Service
The coastal towns attract great numbers of travellers in the holiday season, and on the 50-mile-long Hull— Scarborough route, for example, a half-hourly service has to be provided. In the northern part of its territory, East Yorks has close relations with United . Automobile Services, which also serves Scarborough. Bridlington, Malton and other places. There is, however, no pooling except for returns, which are interavailable.
Actually, apart from the Hull agreement and participation in the Yorkshire long-distance pools, the only pooling arrangement East Yorks has is with the West Yorkshire Road Car Co. in respect of the LeedsYork—Bridlington and Leeds—York—Hull services.
All services going north out of Beverley have to go through the low archway called Beverley Bar. When it was first decided to work double-deckers through to Scarborough, low-bridge Leyland Titans were bought for the route. The company was reluctant to use this typeof vehicle on other routes, and for a time had a mixed fleet of highand low-bridge buses
This arrangement had such disadvantages that eventually it was decided to design a specially shaped top which could be fitted to all double-deckers and so enable any of them to pass through the filar. Hence arose the so-called Gothic top, with which 148 of the company's 153 double-deckers are fitted.
In addition to the double-deckers, the company owns
113 single-deckers. Most of the fleet is of Leyland manufacture, but there are 22 Guys and three A.E.C.
Regals. Nearly all the vehicles are based in Hull, but 25 are at Bridlington, 22 at Driffield, 15 at Elloughton, 18 at Hornsea and 17 at Withernsea. The fleets at the coastal depots and at Driffield are increased in the summer by vehicles drafted from Hull. The main engineering works are at Anlaby Common,.. near Hull. Town services are run in Bridlington and Hornsea, as well as the suburban services around Hull. In the city,-Ferensway Coach Station is the terminus. This is a covered site, well located, next to the principal railway station and used also by Hull Corporation services. Other bus stations used by East Yorks are at Bridlington, Witherniea and Scarborough. In addition to participation in joint services to London and Birmingham, East Yorks has an all-the-year-round service to Newcastle and a summer service to Blackpool.
Twelve-journey tickets are not issued: there are. however, cheap monthly tickets allowing unlimited travel: for instance, for the 38-minute journey between Cottingham and Hull (ordinary single fare 6d.), a monthly ticket is available for 15s. In the year ending September 30, 1949, 10,081,000 miles were run and 31,688,000 passengers were carried. Mr. C. R. H. Wreathall is general manager of the company, Mr. S. C. Wells traffic manager, and Mr. W. H. Price chief engineer. The accompanying map 'gives the routes of all other operators in the Riding except United Automobile Services and the West Yorkshire Road Car Co., and the table attached to it gives the number of vehicles under the respective ownerships. The York Pullman Bus Co., Ltd., and Everingham Bros., Ltd., provide services in lieu of the passenger trains formerly run by the Derwent Valley Light Railway.
The York Pullman concern, of which Mr. H. Foxton is managing director, dates from 1926 and, in addition to services south and south-east of York, has a group running north-west to the country around Alne. The 32 single-deckers comprise 17 Dennis, seven A.E.C., five Bedford and three Austin.
Everingham Bros., Ltd., also the owner of 32 vehicles, is a company dating back to 1904, which began .using motors in 1919, when an A.E.C. YC-type lorry was bought and fitted with a convertible body. Most of the company's activities are in the area west and southwest of Pocklington, its headquarters, but it also works a daily stage service 42 miles long from York to Bridlington.