India Offers New Opportunities
26th January 1951
Page 33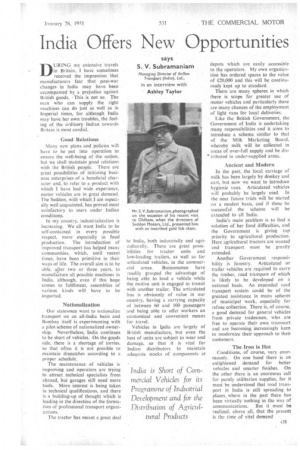 Page 33, 26th January 1951 —
India Offers New Opportunities
Close
says S. V. Subramaniam
Managing Director of Airflow Transport (Indio), Ltd.,
in an interview with Ashley Taylor
DURING my extensive travels in Britain,. I have sometimes received the impression that manufacturers fear that post-war changes in India may have been accompanied by a prejudice against British goods. • This is not so. The man who can supply the right machines can do just as well as in Imperial times, for although India may have her own troubles, the feeling of the ordinary Indian towards Britain is most cordial.
Good Relations Many new plans and policies will have to be put into operation to ensure the well-being of the nation. but we shall maintain good relations with the British people. There are great possibilities of initiating business enterprises of a beneficial character and, to refer to a product with which I have had wide experience. motor vehicles are in great demand. The Seddon, with which I am especially well acquainted, has proved most satisfactory to users under Indian conditions.
In my country, industrialization is increasing. We all want India to be self-contained in every possible respect, more especially in food production. The introduction of improved transport has helped many communities, which, until recent times,have been primitive in their ways of life. The overall aim is to be able, alter two or three years. to manufacture all possible machines in India, although, even if this hope comes to fulfilment, assemblies of various kinds will have to be imported.
Nationalization Our statesmen want to nationalize transport on an all-India basis and Bombay itself is experimenting with a pilot scheme of nationalized ownership. Nevertheless, India continues to be short of vehicles. On the goods side, there is a shortage of lorries. so that often it is not possible to maintain dispatches according to a proper schedule.
The maintenance of vehicles is improving and operators arc trying to attract technical specialists from abroad, but garages still need more tOols. More interest is being taken in technical qualifications, and there is a building-up of thought which is leading in the direction of the formation of professional transport organizations.
The tractor has meant a great deal to India, both industrially and agriculturally. There are great possibilities for tractor units and low-loading trailers, as well as for articulated vehicles, in the commercial areas. Businessmen have readily grasped the advantage of being able to load a vehicle while the motive unit is engaged in transit with another trailer. The articulated bus is obviously of value in our country, having a carrying capacity of between 60 and 100 passengers and being able to offer workers an economical and convenient means for travel.
Vehicles in litdia are largely of British manufacture, but even the best of units are subject to wear and damage, so that it is vital for Indian distributors to maintain adequate stocks of components at depots which are easily accessible to the operators. My own organization has ordered spares to the value of £20,000 and this will be continuously kept up to standard.
There are many spheres in which there is scope for greater use of motor vehicles and particularly there are many chances of the employment of light vans for local deliveries.
Like the British Government, the Government of India is undertaking many responsibilities and it aims to introduce a scheme similar to that of the Milk Marketing Board, whereby milk will be collected in areas of over-full supply and be dis* tributed in under-supplied areas.
Ancient and Modern In the past, the local carriage of milk has been largely by donkey and cart, but now we want to introduce hygienic vans. Articulated vehicles will probably be largely used. In the near future trials will be started on a modest basis, and if these be successful the scheme will be extended to all India.
India's main problem is to find a solution of her food difficulties, and the Government is giving top priority to agricultural production. Here agricultural tractors are wanted and transport must be greatly extended.
Another Government responsibility is forestry. Articulated or trailer vehicles are required to carry the timber, road transport of which is likely to be developed on a national basis. An expanded road transport system could be of the greatest assistance in many spheres of municipal work, especially for refuse collection. There I'S, of course. a good demand for general vehicles from private tradesmen, who are free to operate their own transnort and are becoming increasingly keen to modernize their approach to their customers.
The Iron is Hot
Conditions, of course, vary enormously. On one hand there is an enlightened demand for better vehicles and smarter finishes. On the other there is an enormous call for purely utilitarian supplies, for it must be understood that road transport in India is still spreading to places. where in the past there has been virtually 'nothing in the way of communications. But it must be realized, above all, that the present is the time of vital demand