Tees-side Short of Transport
26th January 1951
Page 32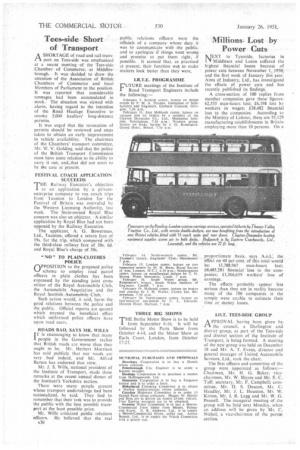 Page 32, 26th January 1951 —
Tees-side Short of Transport
Close
ASHORTAGE of road and rail transport on Tees-side was emphasized at a recent meeting of the Tees-side. . Chamber • of Commerce, at Middlesbrough. . It was decided to draw the attention of the Association of British Chambers of Commerce and local Members of Parliament to the position. It was reported that considerable tonnages had been accumulated in stock. The situation was viewed with alarm, having regard to the intention of the Road Haulage Executive to revoke 5,000 hauliers' long-distance permits.
It was urged that the revocation of permits should be reviewed and steps taken to obtain an early improvement in vehicle availability. The chairman of the Chambers' transport committee, Mr. W. V. Golding, said that the policy of the British Transport Commission must have some relation to its ability to carry it out, and.that did not seem to be the case at present.
FESTIVAL COACH APPLICATION SUCCEEDS
THE Railway Executive's objection to an application by a privateenterprise company to run coach trips from Taunton to London for the Festival of Britain was overruled by the Western Licensing Authority, last week. The State-owned Royal Blue concern was also an objector. • A similar application by Royal Blue had not been opposed by the Railway Executive.
The applicant, A. G. Bowerman. Ltd., Taunton, offered a return fare of 19s. for the trip, which compared with the third-class railway fare of 30s: 6d. and Royal Blue's charge of 30s.
"NO" TO PLAIN-CLOTHES POLICE
OPPOS1TION to the proposed police scheme to employ road patrol officers in plain clothes has been expressed by the standing joint coin, mittee of the Royal Automobile Club, the Automobile Asspciation and the Royal Scottish Automobile Club.
Such action would, it said, harm the good relations between the police and the public. Official reports are quoted which stressed the beneficial effect which uniformed police officers have upon road users.
ROADS BAD, SAYS MR. WILLS IT is encouraging to know that many 1 people in the Government realize that British roads are worse than they ought to be Mr. Herbert Morrison has said publicly that our roads are very bad indeed, and Mr. Alfred Barnes has endorsed that view.
Mr. J. S. Wills, national president of the Institute of Transport, made these remarks at the recent annual dinner of the Institute's Yorkshire section.
There were many people present whose transport undertakings had been nationalized, he said. They had to remember that their task was to provide the public with the best possible transport at the least possible price.
Mr. Wills criticized public relations officers. He believed that the real 430 public relations officers were the officials of a company whose duty it was to communicate with the public. and to apologize if things went wrung and promise to put them right, if possible. It seemed that, as practised at present, their function was to make matters look better than they were.
1.R.T.E. PROGRAMME
FUTURE meetings of the Institute of 1Road Transport Engineers include the following:— February 5, Scottish centre, lecture on design trends by P. M. A. Thomas, Institution of Shipbuilders sad Engineers. Elmback Crescent, MSsow, 7.30 D.M. •
Feb:uary 13, ERR Midlands centre. lecture on vacuum and air brakes by a member of the Clayton Dewandre Co., Ltd., Mechanics Institute, Nottingham, 7.30 p.m.: Western groan, lecture on brake facings by J. a Remington. Grand Hotel. Bristol. 7.30 p.m.
February 14, North-western centre. Mr. Thomas's lecture. Engineers' Club,, Manchester. 7 p.m.
February 15. London centre, lecture on tyre inspection panels by W. H. Binns. Royal Soc'cty of Arts, London, W.C.2, 6.30 p.m.: North-eastern centre lecture on metallurgical defects by T. G. Strong. Hotel Metropole, Leeds. 7 p.m. February 16. South Vales group. Mr. Remington's lecture. South Wales Institute of Eng.neers, Cardiff, 7 p.m,
February 19.,Alidlands centre. lecture on brakes and clutches by I. M. Waller, crown Inn, Bir
mingham, 7.30 P.m. •
February 20, North-eastern centre, lecture on fuel-injection eau.pment bY C. L. Edwards. Domini Hotel. Duiham, 7 p.m.
THREE BIG SHOWS
THE Berlin Motor Show is to be held from September 6-16. It will be followed by the Paris Show from October 4-14, and the Motor Show at Earls Court. London, from October 17-27.
Tags
Organisations
:
South Wales Institute of Eng.neers
,
Western Licensing Authority
,
Institution of Shipbuilders
,
Scottish Automobile Club
,
Institute of Transport
,
Mechanics Institute
,
British Transport Commission
,
Royal Automobile Club
,
Association of British Chambers of Commerce
,
Engineers' Club
,
PLAIN-CLOTHES POLICE
,
Earls Court