Millions. Lost by Power Cuts
26th January 1951
Page 32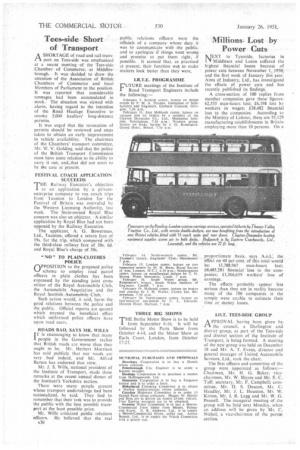 Page 32, 26th January 1951 —
Millions. Lost by Power Cuts
Close
Keywords :
MEXT to Tyneside, factories in Middlesex and Luton suffered the highest financial losses because of power cuts between November 1, 1950, and the first week of January this year. Aims of Industry, Ltd., has investigated the effects of power cuts and has recently published its findings.
A cross-section of 100 replies from member companies gave these figures: 62,535 man-hours lost; £6,198 lost by workers in wages; £38,482 financial loss to the companies. According to the Ministry of Labour, there are 55.129 manufacturing establishments in Britain employing more than 10 persons. On a
proportionate basis, says A.o.l.; the 'effect on 40 per cent. of this total would be: 13.788.967 man-hours lost; £8.485,281 financial loss to the companies; £1,366,659 workers' loss of earnings.
The effects probably appear less serious than they are in reality because many of the 100 companies in the sample were unable to estimate their time or money losses.
1.0.T. TEES-SIDE GROUP
A PPROVAL having been given by, r the council, a Darlington and district group, as part of the Tees-side and district section of the Institute of Transport, is being formed. A meeting of the new group was held on December 18 and Mr. A. T. Evans, director and general manager of United Automobile Services, Ltd., took the chair.
The first officers and committee of the group were appointed as follows:— Chairman, Mr. H. G. Baker; vicechairmen, Mr. W. Mayes and Mr. E. C. Tuff; secretary, Mr. F. Campbell; committee, Mr. D. S. Deacon, Mr. C. Handley. Mr. J. L. Houston, Mr. W. Kirton, Mr. J. R. Legg and Mr. W. G. Pennell. The inaugural meeting of the group will be held next Monday, when an address will be given by Mr. C. Nichol, a vice-chairman of the parent section.