'Irish Bus Workers' Pay Increased
26th January 1951
Page 31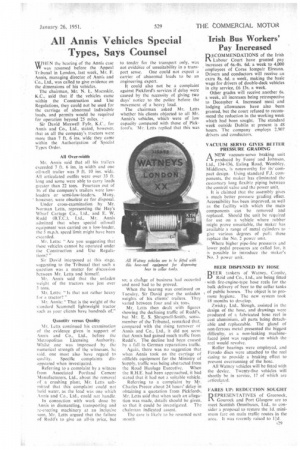 Page 31, 26th January 1951 —
'Irish Bus Workers' Pay Increased
Close
VOMMENDATIONS of the Irish Labour Court have granted pay increases of 68.-8s. 6d. a week to 4,000 employees of Coras Iompair Eireann. Drivers and conductors will receive an extra 8s. 6d. a week, making the basic wage for drivers of double-deck vehicles in city service, £6 13s. a week.
Other grades will receive another 6s. a week, all increases being retrospective to December 4. Increased meal and lodging allowances have also been granted, but the court refused to recommend the reduction in the working week which had been sought. The standard week outside Dublin at present is 48 hours. The company employs 2.907 drivers and conductors.
VACUUM SERVO GIVES BErl'ER • PRESSURE GRADING
ANEW vacuum-servo braking unit produced by Feeny and Johnson, Ltd., 134-136. Ealing Road, Wembley. Middlesex, is noteworthy for its compact design. Using. standard FJ. components, the maker has eliminated the customary long flexible piping between the control valve and the power unit.
. It is claimed that the assembly gives a much better pressure grading effect. Accessibility has been improved, as well as the facility with which the main components can be removed and replaced. Should the unit be required for • use on a vehicle where rubber might prove unsuitable, the maker has available a range of metal cylinders to give various degrees of pull: these replace the No. 2 power unit.
Where higher pipe-line pressures and lower pedal pressures are called for, it is possible to introduce the maker's No. 3 power unit.
BEER DISPENSED BY HOSE DEER tankers of Watney, Combe, U Reid and Co., Ltd., are being fitted with lire-engine-type hose reels for the bulk delivery of beer to the cellar tanks of public houses. The object is to promote hygiene. The new system took IS months to develop.
Zwicky, Ltd.. Slough, assisted in the design of the hose, and drawings were produced of a fabricated hose reel in cast aluminium, all parts being detachable and replaceable. The gland of non-ferrous metal presented the biggest difficulty, as a non-leaking machinefaced joint was required on which the reel would revolve.
Roller hearings were employed, and Ferodo discs were attached to the reel easing to provide a braking effect to prevent overrunning of the hose.
All Watney vehicles will be fitted with the device. Twenty-five vehicles will shortly be in service, 17 of which are articulated.
FARES UP: REDUCTION SOUGHT D EPRESENTATIVES of Greenock,
Gourock and Port Glasgow are to meet Scottish Omnibuses, Ltd.. to consider a proposal to restore the Id. minimum fare on main traffic routes in the area. It was recently raised to Hd.