All Annis Vehicles Special Types, Says Counsel
26th January 1951
Page 31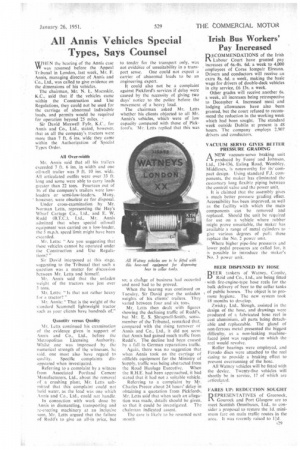 Page 31, 26th January 1951 —
All Annis Vehicles Special Types, Says Counsel
Close
WIEN the hearing of the Annis case was resumed before the Appeal Tribunal in London, last week, Mr. F. ,Annis, managing director of Annis and Co., Ltd" was called to give evidence on the dimensions of his vehicles.
The chairman, Mr. N. L. Macaskie, K.C., said that if the vehicles came within the Construction and Use Regulations, they could not be used for the carriage of abnormal indivisible loads, and permitswould be required for operation beyond -25 miles. • Sir David Maxwell .Fyfe, K.C. for Annis and Co., Ltd., stated, however, that as all the Company's tractors were more than 7 ft. 6 ins. widethey came within the Authorization of Special Types Order.
All Over-width Mr. Annis said that all his trailers exceeded 7 ft. 6 ins. inwidth and one oil-well trailer was 9 ft. 10 ins. wide. All articulated outfits were over 33 ft. long and some were able to carry loads greater than 22 tons. Fourteen out of 16 of the company's trailers were lowloaders or semi-low-loaders. Many, however, were obsolete or for disposal.
Under cross-examination by Mr. Norman Letts, representing the Hay's Wharf Cartage Co., Ltd., and E. W. Rudd (13.T.C.). Ltd., Mr. Annis admitted that when special oil-well equipment was carried on a low-loader. the 5 m.p.h. speed limit might have been exceeded.
Mr. Letts: " Are you suggesting that these vehicles cannot be operated under the Construction and Use Regula tions? " • • Sir David interposed at this stage. suggesting to the Tribunal that such a question was a matter for discussion between Mr. Letts and himself.
Mr. Annis said that the unladen weight of the tractors was just over 3 tons.
Mr. Letts: "Is that not rather heavy for a tractor? "
Mr. Annis: "That is the weight of the s:andard Scarnmell lightweight tractor such as your clients have hundreds of."
Quantity versus Quality Mr. Letts continued his examination of the evidence given in support of Annis and Co., Ltd., before the Metropolitan Licensing Authority. Whilst one was impressed by the numerical strength of the witnesses, he said, one must also have regard to quality. Specific complaints 'disappeared when investigated.
Referring to a complaint by a witness from Associated Portland Cement Manufacturers. Ltd.. about the removal of a crushing plant, Mr. Letts submitted that this complaint could not hold water, as the load was one which ,Nimis and Co.. Ltd.. could not handle.
In connection with work done by .Annis in dismantling, transporting and re-erecting machinery at an inclusive sum, Mr. Lens argued that the failure of Rudd's to give an all-in price, but to tender for the transport only. was not evide'nee of unsuitability in a trans port sense. One could not expect a carrier of abnormal loads to be an engineering expert.
It could also not be a complaint against Pickford's services it' delay were caused by the necessity of giving two days' notice to the police before the movement of a heavy load.
The chairman asked Mr. Letts whether his clients objected to all Mr. Annis's vehicles, which were of low capacity compared with those of Pickford's. 'Mr. Letts replied that this was so; a chalige of business had occurred and need had to be proved.
When the hearing was continued on Tuesday, Sir David gave the unladen weights of his clients' trailers. They varied between four and six tons.
Mr. Letts then dealt with figures showing the declining traffic of Rudd's, but Mr. E. S. Shrapnell-Smith, senio. member of the Tribunal, remarked that, compared with the rising turnover of Annis and Co., Ltd., it did not seem that Annis had gained much traffic from Rudd's. The decline had been caused by a fall in German reparations traffic.
Again, there was no suggestion that when Annis took on the carriage of oilfields equipment for the Ministry of Supply, traffic was being abstracted from the Road Haulage Executive. When the R.H.E. had been approached, it had stated that it had not a suitable vehicle.
Referring to a complaint by Mr. Charles Preece about 24 hours' delay in obtaining a quotation from Pickfords. Mr. Letts said that when such an allegation was made, details should be given, so that it could be investigated_ The chairman indicated assent.
The case is likely to be resumed next month